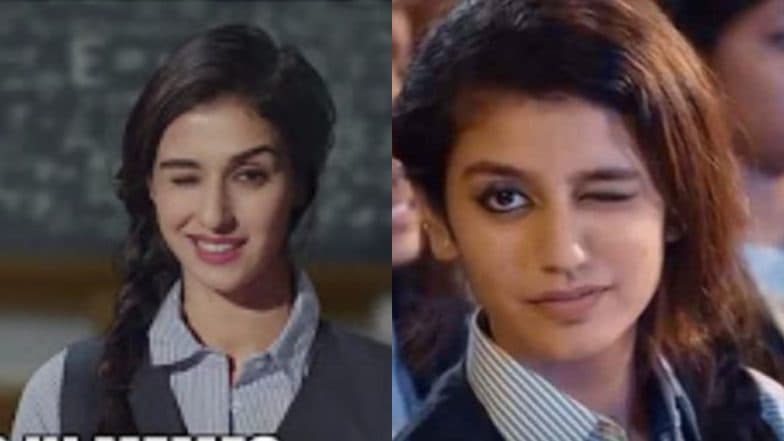 It was only a couple of months ago when the internet was crushing over Priya Prakash Varrier. Next to nobody would have thought that a cute wink in a Malayalam song would go on to become monumentally popular. So much that it made Priya an overnight sensation, and her iconic wink a wallpaper on men's phones. Of course, like anything popular on the internet, the wink, too, was subjected to memes. Thankfully, all positive. Well, reigniting the fire is Bollywood's beauty Disha Patani as in a new video she is seen copying Priya's wink. Disha Patani's Sexy Eyes Make This Hot Insta Video A Repeat Watch!
Disha stars in a new ad for a coffee brand, which creatively takes digs at various popular memes of the internet. One of them being, Priya's wink. Disha can be seen in the avatar of Priya winking for the camera. And well, all we can say that now we have two videos to watch on loop. Priya's song from Oru Adaar Love and Disha's ad. Along with the wink meme, Disha also recreates Aao Kabhi Haveli Pe meme, Gormint Aunty meme and Success Kid meme. Check out the quirky ad here:
On the work front, Disha has already tasted success this year with Baaghi 2, in which she starred alongside Tiger Shroff. She will be next seen in Ali Abbas Zafar's Bharat, in which she plays Salman Khan's sister. She is essaying the role of a trapeze artist in the film and has gone through intense training to learn the art. She is also expected to start shooting for Sanghamitra soon. Hot Pic Alert! Disha Patani Posts a Bra Selfie: Is This Bharat Actress' Sexiest Picture in Calvin Klein Ever?
Now, we will wait for Priya's reaction to the revival of her wink by Disha. Also, if we may ask...whose wink did you like better? Disha's? Or the original, Priya's?