Alright then! Ranveer Singh and Deepika Padukone are off to Italy for their much anticipated wedding! Soon there will be information about every small detail of their wedding affair pouring in. From the venue to the costumes to who all turned out at the do to the gifts given to the freshly married couple--everything will become a talk of the global town. And we have laid our hands on something that suggests what Ranveer and Deepika are going to do with the gifts they are going to receive!
Mind you, this is going to be one of the most high-profile weddings of the year involving Bollywood's most desirable A-listers. The kind of gifts they are going to get not just from the fraternity, but from the fans all over the world is going to be something beyond our imagination! And here's a gesture that goes on to show how large hearted are Dippy and Ranveer. Deepika Padukone – Ranveer Singh Italy Wedding Guest List: Shah Rukh Khan, Vin Diesel, Aditya Chopra, Sanjay Leela Bhansali Are Amongst the Invitees?
According to this document or the copy of the e-invite, it is abundantly clear that this invite is non-transferable. Guests are requested to carry this invite on their cell phones. This code on the card will be checked for entry for security reasons. All gifts in the form of a donation will be directed towards 'Live Love Laugh' Foundation!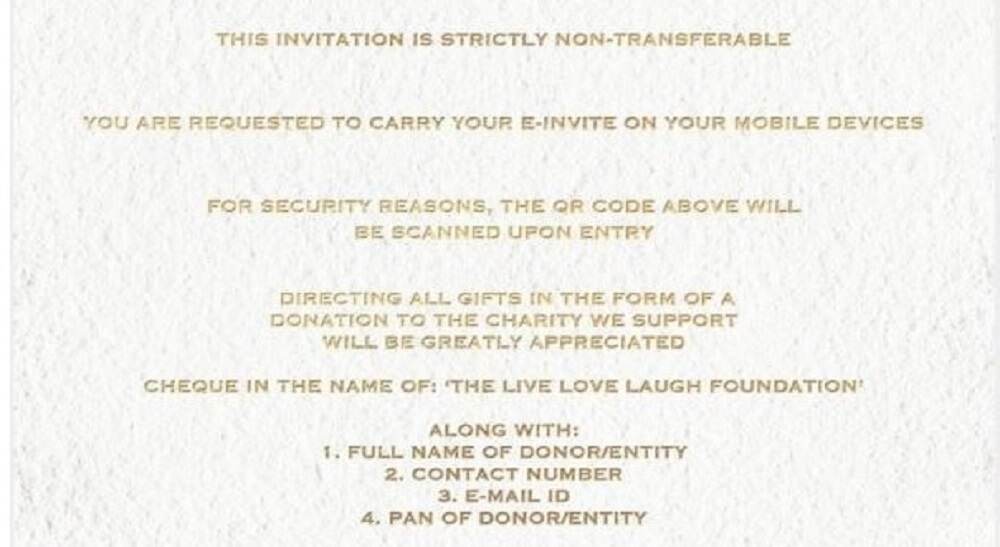 Now isn't this cute and noble at the same time? We think it is! We have already informed you that Lake Como where the wedding will take place will remain unavailable for tourists for a week. Speaking of guests, Ranveer and Deepika have reportedly invited only their close friends and family members for their wedding, while the couple will celebrate their joy with their friends from the industry after they return from Italy.
Talking about the wedding menus, the couple has chosen a mix of Indian and continental dishes. The menu will be according to the theme of the wedding.While south Indian menu will have traditional dishes among others, the guests will also get a chance to taste Punjabi cuisines. The reports also suggest that the couple has signed bonds with chefs to prepare original dishes that will not be repeated anywhere else. Also, special chefs from Switzerland will arrive to bake the wedding cake and will also serve amazing desserts. This surely is going to be a dream wedding!