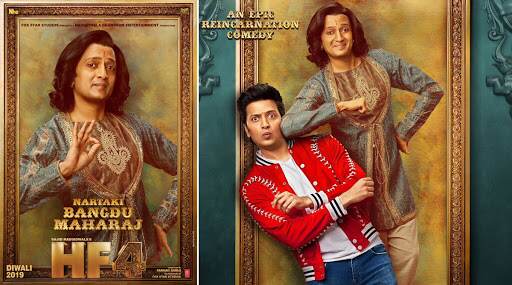 We were wondering what was happening to the Diwali release of 2019 Housefull 4. Akshay Kumar already booked the next Diwali for his film but there was no news of this year's release. And then he dropped a teaser yesterday and now the character posters. We already shared with you Akshay's double roles in the movie and now it's turn for Riteish Deshmukh. Housefull 4 First Look: Akshay Kumar as Bald 'Bala' and Hairy 'Harry' Will Tickle You Funny (See Pics)
Since the film is a reincarnation story, Riteish's character in 1419 was Nartaki Bangdu Maharaj and Roy in 2019. If you look at the characters, both have quirks. Riteish's look from the past era seems so poised and articulate. The one in 2019 seems cocky and funny. Check them out yourself...
Housefull 4 has seen a lot of chaos and commotion while getting made. With Sajid Khan and Nana Patekar getting embroiled in Me Too controversy, the fate of the film was in the lurch. But soon Fahad Samji repaced Sajid on the director's chair and completed the movie. Guess that also delayed the promotional blitzkrieg for the film.