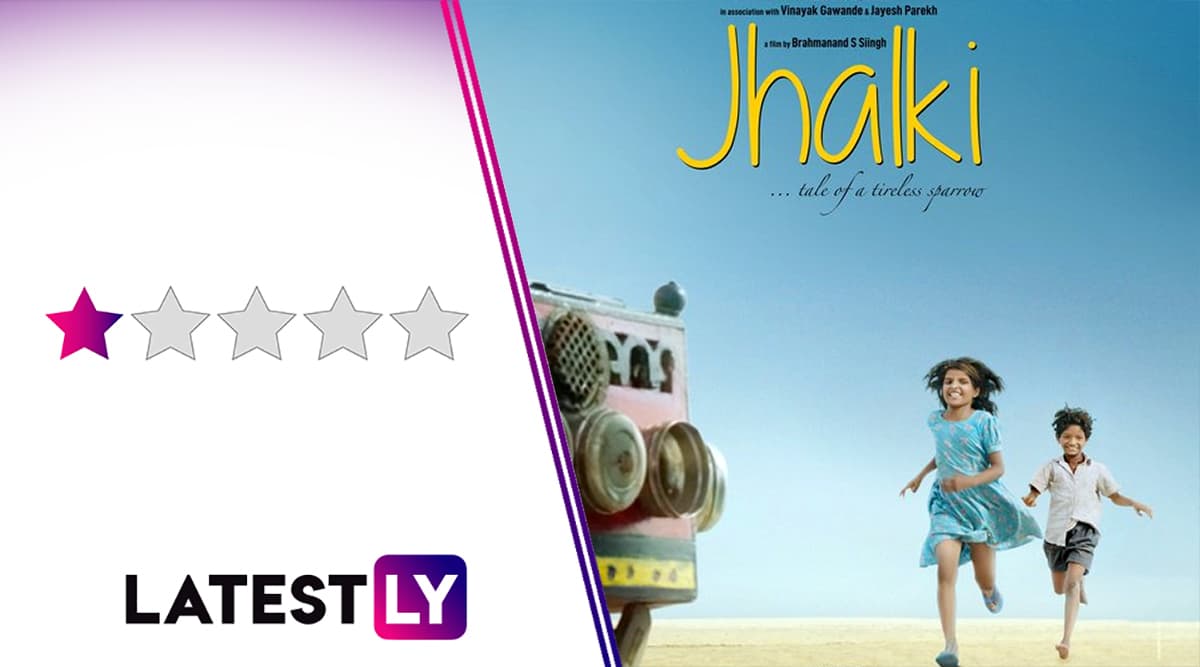 Jhalki Movie Review: Directed by Brahmanand S Singh and Tanvi Jain, Jhalki is a film based on a socially-relevant subject of child-trafficking. The protagonist of the film is a seven-year-old girl named Jhalki from a backward rural area. She lives with her illiterate labourer parents -- an alcoholic yet caring father and a perpetually-sobbing mother -- and a brother.  The film begins with a beautiful Bhojpuri folk-like song "Khajan Chidiya" by Sunidhi Chauhan that is played alongside the beginning credits. That's probably the only thing you will enjoy about the film! Sanjay Suri Says Hope 'Jhalki' Starts a Discussion on Child Labour.
As soon as the film starts, we know right away this unconvincing, naively- directed piece of cinema won't hit you hard enough to feel bad for oppressed young child labourers. There are no heartfelt moments, yet it has so many senseless sequences, which make a mockery of a subject like child trafficking. Sanjay Suri Wants His Upcoming Film 'Jhalki' to Be Tax-Free As It Creates Awareness About Child Labour
The film cuts right to the chase by introducing the antagonist "Sethji" played by Govind Namdev a child-trafficking middle man. He pays the family to "borrow" their son or Jhalki's brother, and sells him off to child-traffickers. This forms the crux of the film.
There's a baffling sequence where the villagers urge the antagonist to take their child away, saying: "Chora 10 saal ka ho gail baa' isko bhi le jao apne saath" (The boy is 10 years old. Take him with you.). The villain then returns to in the village, giving them rewards like a second-hand radio and a torch, which delights them. This scene is one among many such lame sequences that fill the film.
Now, Jhalki's brother is trapped working for a handloom factory with a bunch of other kids and Jhalki is searching for him, roaming the entire city. After she receives a piece of advice from a rickshawala, she approaches the district magistrate of the area (Sanjay Suri) and his wife (Divya Dutta) who shelter her. Never ever in my life have I seen brilliant actors like Suri and Dutta leave no impact with their performances. The reason is simply the lack of meaningful dialogues, sensible scenes and an emotional connect in this two-hour-long film.
There are many senseless scenes in the film. At a point, Suri advises his on-screen wife to stay out of the case, warning her that she's dealing with dangerous people. But this dialogue is repeated four to five times and we don't understand why! The kingpin of the child-trafficking nexus, Akhilendra Mishra as the factory owner, is shown bribing the police and the DM (Sanjay Suri) is aware of that.
Akhilendra Mishra's antagonism seems forced. And his character resorts to beating up, slapping and molesting kids to make a point about his wickedness. And then I wonder why this film even got a Children's Day release in the first place. Tannishtha Chatterjee as an investigative journalist conducting failed raids on the handloom factories is another big let down.
The casual treatment of the sensitive topic in the film would make viewers uncomfortable and I personally feel that a Crime Patrol episode on such a subject would have dealt with the subject more sensitively and convincingly. The cliched storyline, with vague sequences and rushed characters, is enough to give you a headache.
Jhalki Trailer
The main man who rescues the kids from the child-trafficking pit in real-life Kailash Satyarthi is played by Boman Irani who barely has 10 minutes screen presence. His struggle, his hardships is nowhere felt. The moments where he was shot by the child-trafficking goons and a movie based on real moments would have served justice.
Yay
Lead child actors don't disappoint with their presence
Nay!
Badly-written characters

Unimpactful, lame and unconvincing scenes

Divya Dutta, Tannishtha Chatterjee and Sanjay Suri leave no impact

Boman Irani as Nobel Laurette Kailash Satyarthi without any words of wisdom

Caricaturish antagonist

Cops and law and order are merely a joke in this film
Final Thoughts
To put it plainly, the dark depressing story is not engrossing in any way and you can blame the weak script for it. The film is a big failure despite two national award-winning actresses starring in it.