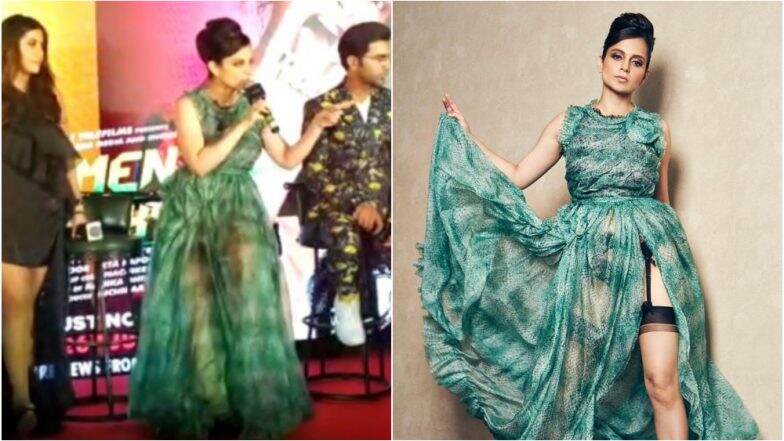 After the Mumbai Press Club condemned Kangana Ranaut's behaviour and came in support of the Entertainment Journalists Guild, The Press Club of India has now issued a statement condemning the actress' recent spat with a journalist at a promotional event for her upcoming film Judgementall Hai Kya. In the statement, the organisation has termed the actor's behaviour "unacceptable" and extended its support to entertainment journalists who have decided to boycott her in protest. Kangana Ranaut - Journalist Controversy: Mumbai Press Club Supports Entertainment Journalists' Guild in their Decision to Ban the Actress.
The statement reads, "We the Press Club of India are aghast, anguished and shocked at the incident involving an actress of Bollywood using uncivilised, uncultured, filthy and abusive language against the Media persons. We condemn it in the strongest possible words. This behaviour and hurling abuses towards journalists is unacceptable."
Check out the statement here:
Press club of India - delhi @PressClubOfI1 support #EntJournalistsGuild pic.twitter.com/Hz5JeKUB5P

— ENTERTAINMENT JOURNALIST GUILD (@GuildJournalist) July 12, 2019
The statement further also says, "We support the decision of the boycott by the journalists covering the entertainment industry in Mumbai namely Entertainment Journalists Guild. We extend our support to the Mumbai Press Club for undertaking thorough enquiry of the matter. . Kangana Ranaut Labels Entertainment Journalists Guild of India as 'Deshdrohi'; Twitterati Has a Mixed Response to Her Video!
Lastly, we, the Press Club of India wish to appeal to the saner and civilised members of the Bollywood to prevail upon these uncivilised, uncultured and unruly elements and entities of their industry. We hope and expect that the sanity and wisdom will prevail."
This comes a day after the Mumbai Press Club released a statement supporting the Entertainment Journalists Guild. The Mumbai Press Club also stated that if Kangana continues her verbal abuse against the media fraternity, the organisation will consider pressing criminal charges of abuse, defamation and intimidation against the actress.
It all started on July 8 when Kangana had a heated argument with a journalist where she accused him of starting a smear campaign against her. After the incident, her spokesperson Rangoli Chandel took to Twitter to speak in support of her and hurled abuses at other journalists too. After the media fraternity asked her to apologise, failing which they would boycott her, Kangana released a video stating she would not apologise and asked the media to ban her.