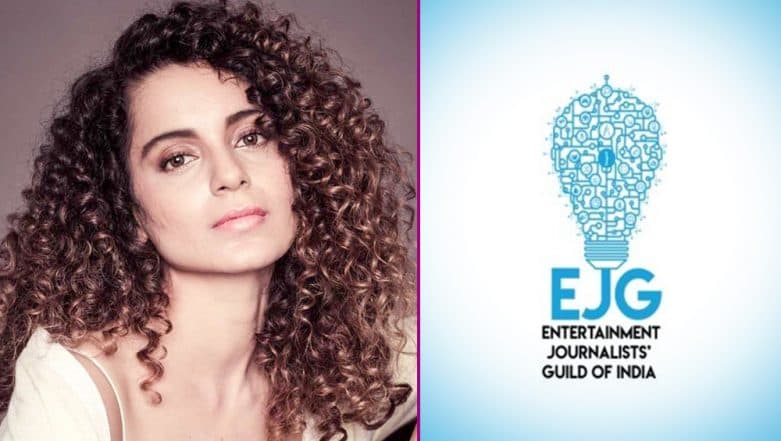 This morning Judgementall Hai Kya actress Kangana Ranaut's video message created stirred another stir. She has not just refused to apologise to the Entertainment Journalists Guild of India, but Kangana has even labelled the fraternity as 'deshdrohi'. In the video which is shared by her sister Rangoli Chandel, Kangana has challenged the fraternity to ban her. Kangana's choice of words for the media has not been digested by some of the Twitterati. There has been a mixed response to the video which has taken the internet by storm. Kangana Ranaut Does Not Apologise, but Asks Media to BAN Her - Watch Videos.
Kangana Ranaut's behaviour at the song launch event turned out to be ugly, after which the Entertainment Journalists Guild of India (EJG) demanded a written apology from her. Judgementall Hai Kya producer Ekta Kapoor issued an apology, however that did not work in Kangana's favour. In one of the videos, Kangana stated in Hindi that three to four of them have made some Guild against her through which people have threatened the actress stating she'll be banned or ruin her career. 'Arre nalayakon, deshdrohiyon, bikau logon, tumlogon ko khareedne k liye lakhon bhi nai chahiye', said Kangana in her video. Rajkummar Rao Supports his Judgemental Hai Kya Co-star, Kangana Ranaut in her Spat Against the Journalist.
Video #1
Here's a vidoe message from Kangana to all the media folks who have banned her, P.S she has got viral fever hence the heavy voice 🙂...(contd) pic.twitter.com/U1vkbgmGyq

— Rangoli Chandel (@Rangoli_A) July 11, 2019
Video #2
(Contd)....🙏🏻🙏🏻🙏🏻 pic.twitter.com/nzQoVN8llU

— Rangoli Chandel (@Rangoli_A) July 11, 2019
Here's what Twitterati have said:
Tweet #1
Jo media Aapke fever m bole acche media Jo against o Gandi media... Try to observe criticism... They all make u star... Otherwise Aap only pancholi ki najayaz pet

— praveen (@pmishra2188) July 11, 2019
Tweet #2
GAddar aurat! kaha hai screenshots Watsapp ke?

— Shivam singh (@Shivams25646825) July 11, 2019
Tweet #3
I pity on these 2 psycos... You sisters need psychiatric help.. Get well soon.

— ABC (Hyderabadi😋) (@CupidBheem) July 11, 2019
Tweet #4
This proves all the tweets by this account were written my Kangana herself.

Same language.

Pure future BJP candidate.

— Arth Chavda (@Arthwrites) July 11, 2019
Tweet #5
Muft ka khana? How low for an actress. And pretty low intelectual maturity.

— Atticus Balgit Finch (@BalgitSharma) July 11, 2019
Tweet #6
Wut? Deshdrohi? How did that even enter the conversation? I swear, she sounds crazier with every passing day.

— J M G (@NotVeryFunny511) July 11, 2019
Tweet #7
She has lost it absolutely

Lololol now kangna certificates required for someone to be journo,n if some one by chance criticize or troll her he she will make him/her desh drohi

What a lady amazing

— Bird Man (@boneypaul22) July 11, 2019
Tweet #8
Rightly said #Kangana@PJkanojia @AnooBhu @PoulomiMSaha @JustinJRao @iFaridoon jaise so called pseudo journalist to 50-60 rupay mein bik jayenge.😂🤣 Chindi log.

— Mental🔪🍎 Sshhashank 🤫🤯 (@SabhyaLadka) July 11, 2019
Tweet #9
Kya doh dala. I respect truth and real . This girl is real . Get ready pseudo liberals for more shame

— Phalgun Iyengar 🔱 🇮🇳 (@PhalgunIyengar) July 11, 2019
Tweet #10
You're unstoppable. Nationalists stands with you shoulder to shoulder. Keep up the good work.

— #HinduCharter ॐ भारत ॐ 🇮🇳 (@_dharam_vir) July 11, 2019
Tweet #11
Why so triggered if the journalist and guild is useless? Ignore and move on!

— Shreya (@_hajmola_) July 11, 2019
Tweet #12
Paid media decimated. Well done #KanganaRanaut. This is the a reason your fans love you

— shruti razdan (@shrutirazdan) July 11, 2019
The Entertainment Journalists Guild of India in their latest statement has stated that they will continue to support the film Judgementall Hai Kya, which is scheduled to release on July 26. In their earlier statements it was also clarified that the other casts in this film will not be affected with the ongoing issue. But after such response from Kangana Ranaut, we wonder what will happen next.