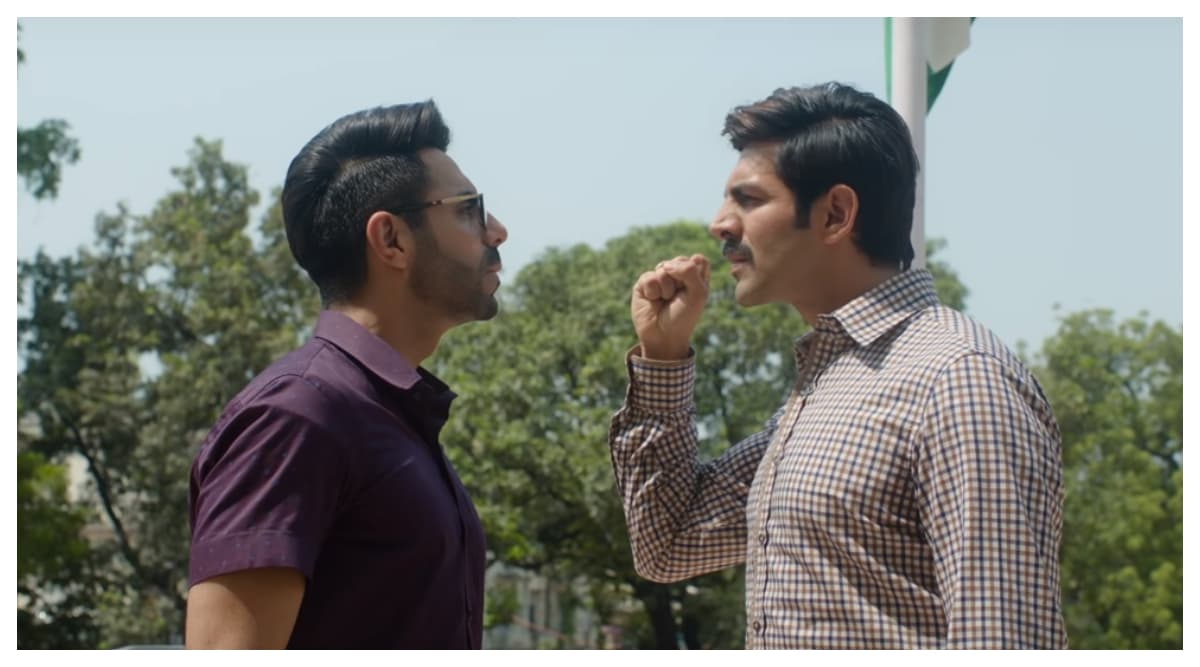 Adultery has been quite a favourite topic for Bollywood to make movies on. There have been nuanced representations like Astitva, Life in a Metro, or even Kabhi Alvida Na Kehna. There have been comedies like Biwi No 1 and Gharwali Baaharwali. And all is fine until there is a line. So, the audience didn't really have a problem with the adultery angle being explored when the first trailer of Pati Patni Aur Woh dropped on the internet today. The problem runs much deeper thanks to one joke shown in the first footage. Pati Patni Aur Woh, directed by Mudassar Aziz, stars Kartik Aaryan, Bumi Pednekar and Ananya Panday. The movie is being torn apart on Twitter because of a joke on marital rape made by the lead character.
While explaining his sex-life as a married man, Kartik's character says, "Biwi se sex maang lein, toh hum bhikaari. Biwi ko sex mana kar dein, toh hum atyachaari aur kisi tarah jugaad laga ke uss se sex haasil kar lein na toh balaatkaari bhi hum hain." 
All jokes are welcomed ONLY IF they are NOT enabling the harassers. If they are not normalising the subject for the sake of a one-liner. Women and NGOs are still fighting in India to get marital rape criminalised. Yes, just in case you did not know, marital rape in India is not a criminal offence and is not even considered rape. So, in a setup like India, that joke doesn't work. Twitter is rightly calling out the film and the makers.
Marital Rape is a joke in this country anyway.
Bollywood to rescue again for a social cause and legal fight, "kisi tarah jugaad laga kar biwi se sex haasil kar lein to balatkari bhi him hain". Because marital rape is a joke in this country anyway. Well done.#PatiPatniAurWoh #PatiPatniAurWohTrailer

— anvita (@anvitanath) November 4, 2019
Don't Normalize Marital Rape.
No Bollywood you do not get to normalize marital rape !! And to think a man wrote these words & a male star spoke these words in order to elicit laughter from the crowd !! Marital rape is NOT A LAUGHING MATTER. Ridiculous & Shameful. #PatiPatniAurWoh https://t.co/YbeOr2jIRy

— Harneet Singh (@Harneetsin) November 4, 2019
Pathetic, to say the least.
pathetic to say the least. cracking a joke on marital RAPE so casually, wouldn't be surprised to see people enjoying the scene and having a good laugh at it. Well done. #PatiPatniAurWoh https://t.co/WWuTaPHFbq

— ⎊ (@saumya_x) November 4, 2019
Reducing consent to a joke
At 1.17, @TheAaryanKartik's character laments how "kisi tarah jugad laga sex hasil karne se" 'poor' men are labelled as rapists.

Reducing consent & #MeToo to a joke, this is film making?

Shame on you, @TheAaryanKartik & makers of #PatiPatniAurWoh !https://t.co/TbzcX13SGH

— Shreya 🎶 (@ShreyaTeresita) November 4, 2019
Yes, please someone tell them this is 2019
Someone please tell Juno Chopra that it's 2019 and rape jokes are unacceptable.@TheAaryanKartik how did you agree to that dialogue? @Aparshakti @ananyapandayy @bhumipednekar @TSeries #PatiPatniAurWoh is same old Govinda crap being reheated and sold to us... shameful!!

— Rupali Pant | रूपाली पंत | ਰੂਪਾਲੀ ਪਂਤ 🇮🇳 (@KrazyGal92) November 4, 2019
And just so guys do not forget
Marital rape cannot be considered as criminal act, says Supreme Courthttps://t.co/hW5NtHdCX7 pic.twitter.com/7NmFus9Ndj

— Deccan Chronicle (@DeccanChronicle) August 10, 2017
BTW, while talking to the media, Bhumi, who plays the wife in the film said that the makers have been sensitive while making the film. She said, "I think everybody who's part of this film, be it Bhushan sir, Juno or Mudassar sir, belong to that school of thought. This could go wrong so easily but they have been sensitive and careful. It's a big achievement." We wonder what her take is after the trailer is being bashed all over the internet for the joke.
"It's a situational comedy but it's not frivolous. It's empowering to both the genders. There's nobody who is black-and-white in real life too. I think the makers have been conscious to make sure they do not turn this into a sexist, baseless film," Bhumi also told the reporters.