Paltan is a colossal disappointment! We got a hint of that when we heard that Abhishek Bachchan had walked out of the film, a day before he had to report for the shoot. Abhishek had been launched by JP Dutta in Refugee, and he had worked with the director in LOC-Kargil and Umrao Jaan, so his walkout was surprising. Later, even Suneil Shetty, Jimmy Sheirgill and Pulkit Samrat had said no to the film, though their exit didn't cause so much outrage though. As of now, Paltan starred Jackie Shroff, Arjun Rampal, Sonu Sood, Harshvardhan Rane, Esha Gupta, Sonal Chauhan, Gurmeet Choudhary, Luv Sinha, Siddhant Kapoor, Monica Gill and Dipika Kakkar. Paltan Movie Review: JP Dutta Makes His Weakest War Film That Shines Only Towards The Final Moments.
It was weird since JP Dutta gave Bollywood its biggest hit in the war drama genre in Border. The trailer of Paltan that came out wasn't very exciting and the songs, surprisingly, underwhelmed. Now when Paltan came out in theatres, our worst fears were confirmed - The movie disappoints big time in making an engaging war drama. Too lengthy, the film doesn't break any grounds in narration, despite having a lesser heard story to tell. Moreover, it feels like a retread of Border in terms of both narrative style and borrowed tropes. We are not even talking about the placement of the final battle and the following tribute song. Here are five things that it took from JP Dutta's first War film. Needless to say, huge SPOILERS Ahead!
The Flashbacks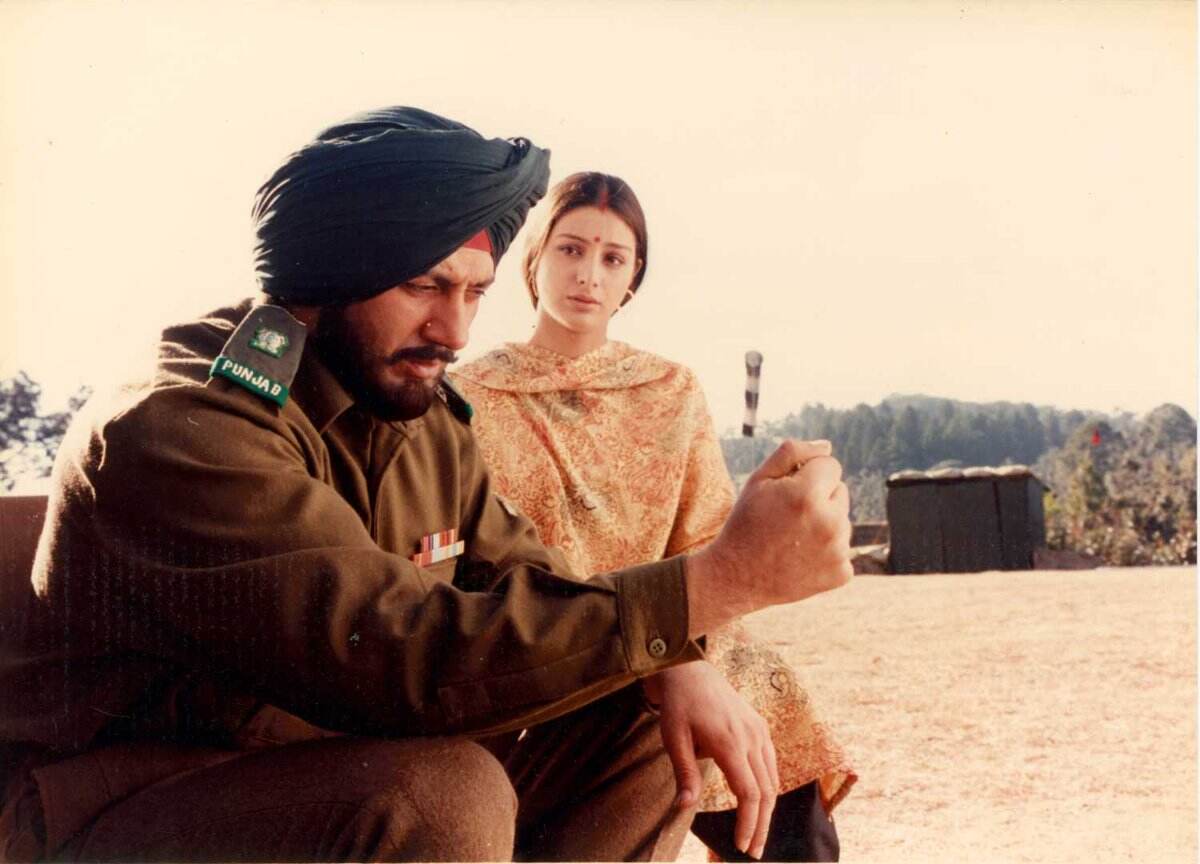 Like with Border and even in LOC-Kargil, most of the main characters, save for poor, often ignored Siddhant Kapoor's, get to have more than have their wives' photos in the wallets with flashbacks. These scenes feel forcefully inserted in the movie, and doesn't give us anything new.
Characters with bigger backstories, DIE!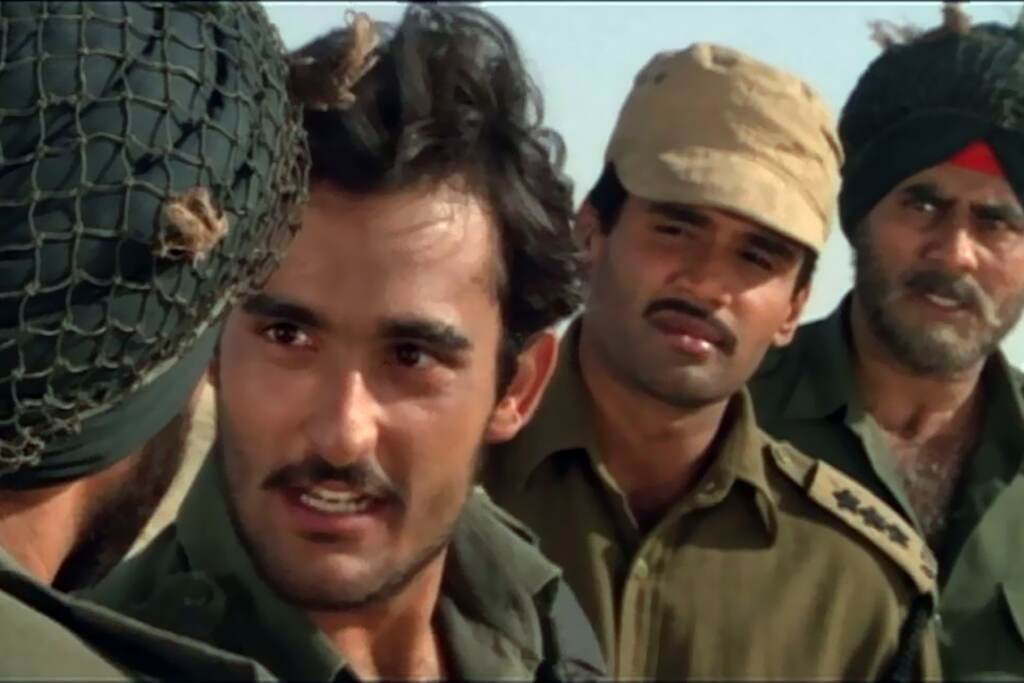 Remember how Suneil Shetty and Akshaye Khanna's characters had more screentime for their love stories in Border? Also, remember that they are the ones who end up dying by the end of the film. Same goes for Ajay Devgn, Saif Ali Khan and Abhishek Bachchan in LOC-Kargil. Well, in the case of Paltan, Gurmeet Choudhary and Harshvardhan Rane's characters get more screentime and are the only ones in the main cast to die!
The jingoism
All the main characters in Border share one language - 'jingoism'. Dutta's LOC-Kargil had toned it down, but then the movie didn't click with the general audiences. So jingoism returns in Paltan.
The Deaths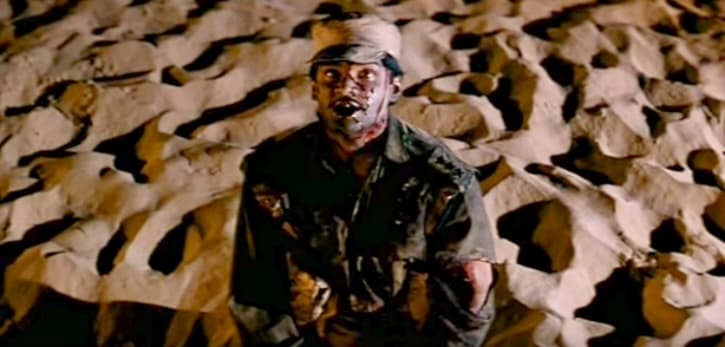 Like I mentioned before, two main characters who die in the movie are played by Gurmeet and Harshvardhan. Strangely, both die in a similar way as Suniel Shetty did in Border. Gurmeet's death scene is also similar to that of Chris Pratt's in The Magnificent Seven (see video below).
Jackie waiting for the call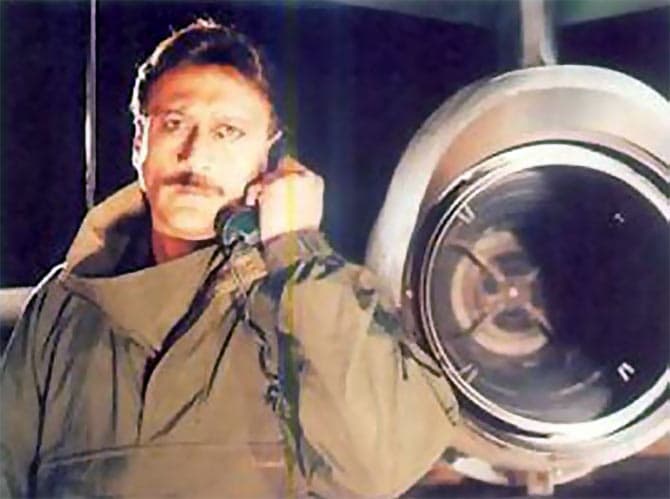 Jackie Shroff's character in Border, Wing CommanderAnand Bajwa, spends most of the time during the final battle in the hangar, waiting for the higherups for the green signal to launch an aerial assault. In Paltan, his Maj Gen Sagat Singh is waiting in the climax for his seniors' call to launch a mortar attack on the enemy camp. Poor Jackie, always missing out on the action!