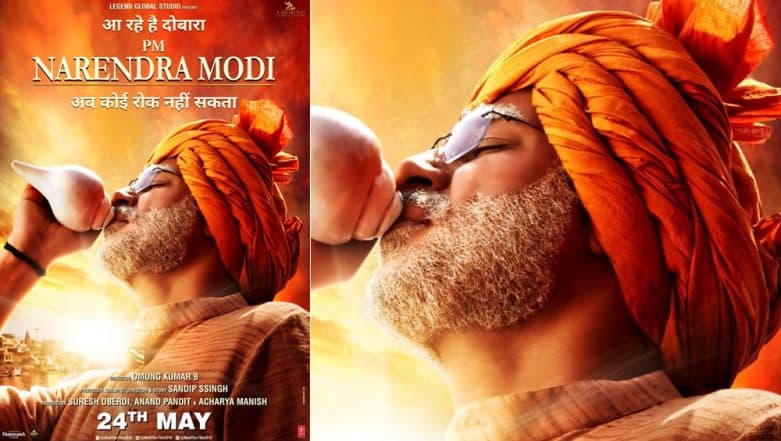 Omung Kumar-directorial PM Narendra Modi is a biopic on the current Prime Minister of India. Amidst the controversy of its releasing it in the Election season, the Election Commission had banned the film from releasing on 5 April. Now that the 2019 Lok Sabha Elections are concluded, this Vivek Oberoi and Boman Irani-starrer is releasing all over India on May 24. Going by the film's trailer, it looks like the film focuses on Narendra Modi's journey right from his young days of entering politics by joining RSS to becoming Gujarat's CM. PM Narendra Modi Trailer 2: Vivek Oberoi Packs Mean Punches on the Opposition in This New Promo – Watch Video
With its release date happening a day after the general elections results, the movie is expected to pull in the crowds, especially the Modi supporters. As you go on to witness this journey of the Indian Prime Minister, here is everything you need to know about the PM Narendra Modi film. PM Narendra Modi Godhra Promo Video: New Movie Trailer Features Modi's Hang Me If I'm Guilty For 2002 Riots; Interview
Cast
The film features Vivek Oberoi stepping in the shoes of the Indian Prime Minister. An interesting casting for the film is of Manoj Joshi playing the Bharatiya Janata Party president Amit Shah on-screen. Boman Irani is set to play the famous industrialist Ratan Tata. The rest of the supporting cast includes Barkha Bisht, Zarina Wahab, Prashant Narayanan, Darshan Kumar, Rajendra Gupta and Anjan Srivastav.
Story
The story of PM Narendra Modi covers many phases of Modi's life, especially from his past. Covering his childhood and teenage days to his entry in politics, the film showcases the former Gujarat CM's leadership getting some insights of Modi's Gujarat Model and his affiliation with Indian industrialist Ratan Tata. What the film proudly showcases is Narendra Modi's stand against Pakistan and his agitations against the terrorist in Kashmir waving the Indian Flag in Srinagar, Kashmir 1992. The opposition's rivalry with Congress is not to be missed.
Trailer
Here is the Official Trailer of PM Narendra Modi:
Budget
The makers of PM Narendra Modi has not officially released the budget of the film. Still, some trade experts suggest that this Vivek Oberoi film is made with a crisp budget of Rs 20 crore.
Music
Here is the list of songs from PM Narendra Modi film:
Fakeera Song
Hindustani Song
Box-office prediction
Speaking to The Indian Express, trade analyst Girish Johar said, "The buzz around PM Narendra Modi has died down a bit. Earlier, the talk about the movie was more concentrated towards a political agenda and now you see at it purely as a biopic of a political leader. So, I peg it's opening day collection somewhere around Rs 2 crore."
Movie Review
The reviews for PM Narendra Modi Movie are not out yet. Latestly will update you with its movie review. So do not forget to keep an eye on our website to catch our thoughts on the film.