American singer Nick Jonas turns a year older on September 16, 2018, and it is his most special birthday ever in 26 years. Why? Well, the 26-year-old has his lady love and fiancee Priyanka Chopra by his side to celebrate the big day. Priyanka Chopra and Nick Jonas got engaged in August earlier this year and the couple has been in celebratory mode ever since. However, one information related to this good-looking pair among netizens is the age difference between Priyanka Chopra and Nick Jonas. Be it Priyanka Chopra's birthday or Nick Jonas' birth date, people get too curious to search for their ages and the age gap between the two. It almost seems like an obsession among them to know how old is Priyanka Chopra and what is her fiance's age. So, what is Priyanka Chopra's age? Her birth date? How old is Priyanka? What is Nick Jonas age? How many years old is PeeCee's fiance Nick Jonas? His birthday? Too many questions and we have the answer. HINT: There's more than ten years age gap between Priyanka Chopra and Nick Jonas. Priyanka Chopra Has the Weekend Planned for Fiance Nick Jonas' Birthday - See Pics INSIDE.
When Priyanka first walked the red carpet with Nick Jonas at Met Gala 2017, little did the two know of hitting it off on a personal level. A year later, he is making things official aka confirming Priyanka Chopra to be his 'Future Mrs Jonas' by bringing her to his family function! Priyanka Chopra officially announced she was 'Taken' with all her heart and soul by good-looking firangi Nick Jonas. The international singer is officially jiju of India in addition to Parineeti Chopra after he flew down to India for a traditional roka ceremony followed by engagement part on August 18, Saturday in Mumbai. Those lovely pictures of Priyanka Chopra and Nick Jonas making their announcement as a couple is etched in our memories and it is only time their wedding takes place and they'll be husband and wife. Aww. However, amidst the celebrations of Priyanka and Nick's union, netizens are also too busy finding about their ages and the age difference.  Priyanka Chopra and Nick Jonas' Engagement Bash Was Mad Fun! See ALL Inside Pics and Videos.
What is Priyanka Chopra's current age?
Born on July 18, 1982, Priyanka Chopra is 36 years old. The gorgeous Bollywood actress was all of 17 when she was crowned Miss World in 2000. Search engine Google is being flooded with the search terms 'Priyanka Chopra age' ever since the reports of her dating 'Last Year Was Complicated' singer surfaced on the internet. In fact, on her 36th birthday, Nick proposed to her with a giant Tiffany & Co engagement ring and entered the committed relationship.
What is Nick Jonas' current age?
Born on September 16, 1992, Nick Jonas' current age is 26. The handsome American singer, songwriter, actor, and record producer is a darling of media for his good looks and charming personality. Seeing the maturity and chivalry, it is hard for netizens to believe he is only 26 years old and no wonder Google Trends witnessing a spike in search for 'Nick Jonas age' results.
What is the age difference between Priyanka Chopra and Nick Jonas?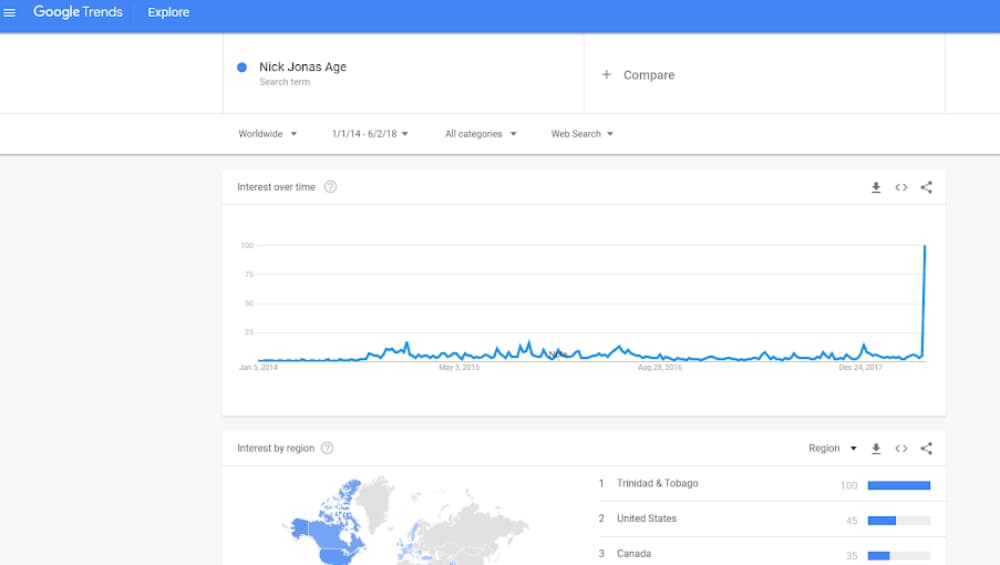 Yes, yes, Priyanka Chopra is almost eleven years senior to Nick Jonas. This is not the first time Nick is in a relationship with an older woman. Earlier, he had dated Hollywood actress Kate Hudson, who is currently aged 39. Coming back to Priyanka, she is 36, and he is 25. Does that make this pair less desirable? Hell NO! These young, dashing, super successful and independent souls have struck a chord and all that matters in the end. If Priyanka and Nick are happy in each other's company, it is high time netizens including nosey Twitterati stop writing mean comments directed at them.