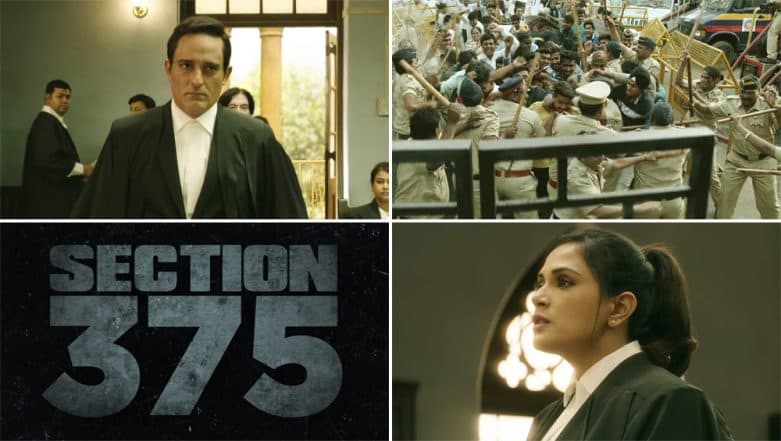 Fans of Akshaye Khanna and Richa Chadha will have to wait for one more day to watch Section 375 on the big screens. The film directed by Ajay Bahl is a courtroom drama that revolves around a filmmaker who is accused of rape by a costume assistant of his movie. It highlights how two strong lawyers, criminal lawyer Tarun Saluja and public prosecutor Hiral Mehta, battle it out when the case gets reopened in the High Court. Critics are mighty impressed with not only the performances of the star cast, but also the gripping tale. Let's take a look at the reviews shared by critics. Section 375: Ali Fazal, Richa Chadha, Vicky Kaushal, Meera Chopra and Others Attend the Special Screening! View Pics.
Hindustant Times - Akshaye Khanna impresses with his intense and gritty performance in every frame, though he definitely could have worked a bit more on his flat facial expressions that he didn't let go of throughout the film. Following suit is Richa Chadha who proves yet again why she is one of the finest we have in Bollywood. Her nuanced act as a junior lawyer, evidently overwhelmed, as she fights her career's first big case against someone who was once her boss, deserves applause. Section 375 is a well-timed film with the MeToo movement still finding its ground. As it rightly states, 'every false accusation of rape is another nail in the coffin of an actual rape victim'. This film raises important questions and leaves you thinking.
Times Of India - Director Ajay Bahl tackles the sensitive issue of rape, while throwing light on abuse of power, dynamics of privilege and the absolute need for consent, will and permission when it comes to sex. For those not in the know, it also spells out points of Section 375 of the IPC. The film makes for a gripping watch with a crisp runtime and top-notch performances. Akshaye Khanna is intense, brooding and riveting all at once. He is simply brilliant as he owns every minute that you see him on screen. Richa Chadha follows up with an equally earnest and nuanced act.
Koimoi - Akshaye Khanna, with every film, proves just one thing – Why he's the most missed actor in Bollywood. He's a drop 'dread' delight to watch. With that almost perfect dialogue delivery, he manages to land a wicked smile – it's pure gold! Richa Chadha is effortless! She portrays the underdog in the story and underplays it beautifully. This movie is more than the nitpicked flaws. It presents the judiciary system in a very abstract light and moves you in the right direction. It makes you think with its very unique approach.
Pinkvilla - Section 375 is a riveting and engaging courtroom drama that opens up the audience to the gender pushback #MenToo movement. Akshaye Khanna owns this thriller and is the soul of the film. He has captured the demeanour of a senior lawyer with nuance, smirking at the immaturity of his ex-protégé and reminding her that they are in the business of law and not justice. Richa Chadha has played her part of a defence lawyer cum activist convincingly.
The critics have mentioned that the film has tackled a relevant and complex issue that is going on in the country. The film was also premiered at the Singapore South Asian International Film Festival on September 7, and it received a thumbs up. Section 375 is produced by Kumar Mangat Pathak, Abhishek Pathak and SCIPL. Stay tuned for more updates!