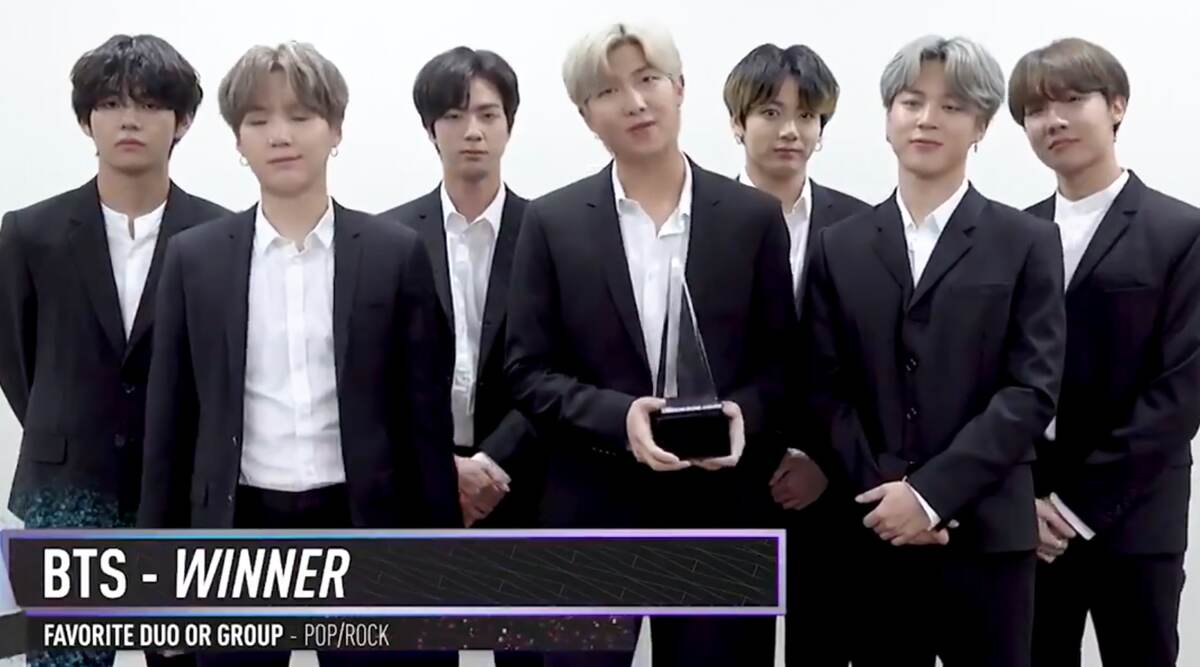 Popular K-Pop boy band has once again made their Army of fans proud as they won big at the 2019 American Music Awards. BTS was nominated for three categories and have received the trophy in all of the three, beating top contenders like Jonas Brothers, Ariana Grande, Ed Sheeran and Billie Eilish! BTS won the AMAs for "Favorite Social Artist", "Best Duo/Group" and "Tour of the Year". And although the group of seven boys were not in attendance at the event, they have made the entire fandom proud. The BTS Army is expressing happiness on social media and the boys have left a small message for everyone. I Purple You Day: BTS Fans Celebrate Third Anniversary of Kim Taehyung's Famous Phrase of Love, Know What It Means (Check Viral Tweets).
In the Favourite Social Artist, the other names on the nomination list were Billie Eilish, Shawn Mendes, Ariana Grande and EXO. For the Tour of the Year Award, they were contending against Elton John, P!nk and Ed Sheeran. And for the Favourite Duo/Group, they were pitted against Jonas Brothers and Panic! At The Disco. The Korean band has left all of the big names behind to take the trophies of the titles home. Last week, when the nominations for Grammys 2020 were announced, the Korean boy band was wholly left out, and fans were outraged. The BTS Army made it clear on social media and said they would rise again.
Check BTS Army's Tweets Congratulating on Winning the AMAs:
Happiness Everywhere
Congratulations @BTS_twt !!!

They won three awards at #AMAs !!!

🏆Favorite Duo or Group POP/ROCK

🏆Tour Of The Year

🏆Favorite Social Artist!

So HAPPY!!!!! 😭 pic.twitter.com/276fjvYZPv

— Soo Choi 💜 (@choi_bts2) November 25, 2019
Garnering Global Attention
oh wow, @BTS_twt, a KOREAN group, was the second most awarded act of the night (tied w/ Khalid) at the AMERICAN music awards. if that does scream global representation and impact, idk what does

— hunnie ☁️ (@taehunnies) November 25, 2019
Congratulations
Congratulaciones @bts_bighit! They deserve this award and many more! Let's look forward to it! @AMAs They're so big! I love you! 💗 #ARMY pic.twitter.com/Te3ERK1eCP

— andrea (@av_axl) November 25, 2019
Deserving
Tour of the Year at #AMAs was beyond deserved.

Just listen to ARMYs singing along to Jin's Epiphany! 😍

This gives me chills EVERY TIME!@BTS_twt💜🥳 CONGRATS BOYS! pic.twitter.com/7DIQ2IA4kY

— Aɾɱყ Bɾιɠαԃҽ 13_N (@ArmyBrigade13_N) November 25, 2019
We Did It!
[💜]

ARMY~~ We did it, we want it, we got it and we deserve it💜💜💜

- Favorite Social Artist

- Tour of the Year

- Favorite Duo/Group

Terimakasih atas segalanya untuk BTSxARMY🥺#AMAs #AmericasBestGroupBTS #방탄소년단 #BTS @BTS_twt pic.twitter.com/Nk2uCtCSFP

— BTS—ARMYTEAM 『💜』 (@ARMYTEAMID) November 25, 2019
The Army is proud that they made their favourite band win. BTS however, left a message for their beloved fans and promised to return the love back to them.
Check BTS's Message For The Army:
A special thank you message from @BTS_twt to the ARMY for winning Favorite Duo or Group - Pop/Rock! #AMAs pic.twitter.com/mkdFiMwmhI

— American Music Awards (@AMAs) November 25, 2019
Taylor Swift took the first spot with five awards to her in AMAs. With three honours to their credit, BTS has tied with Khalid to be at the second position for receiving the most number of awards. It is indeed a thing of pride for all the fans and they have already started trending them worldwide on social media.