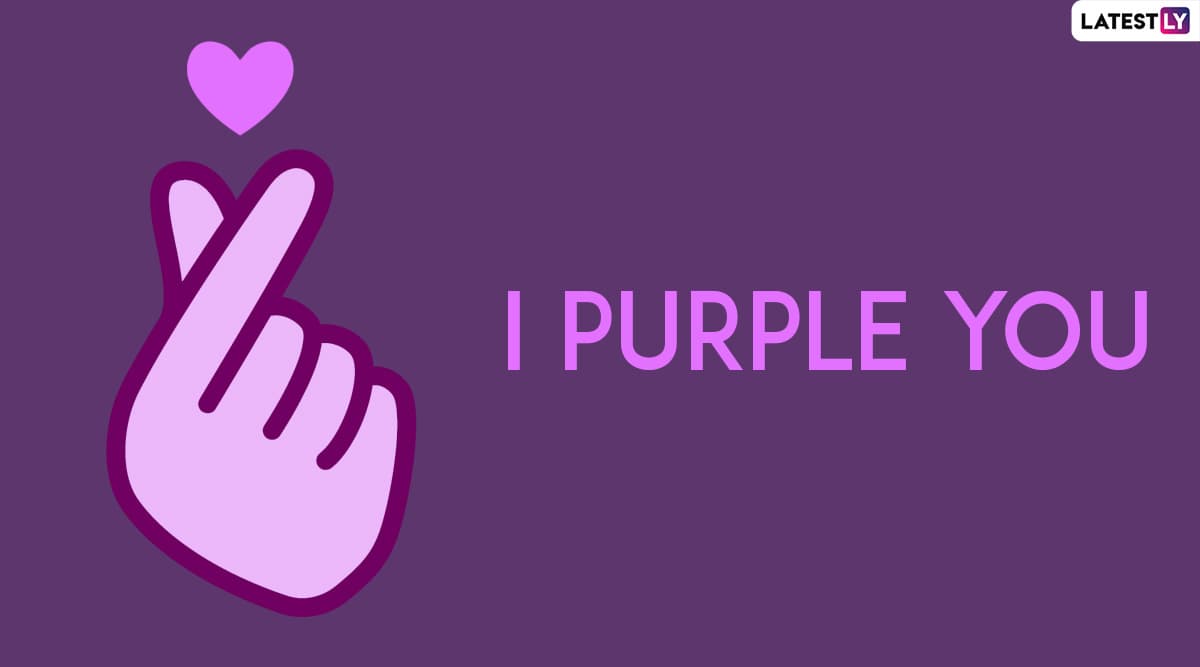 It has been three years since the BTS member, Kim Taehyung, introduced and explained to the ARMY, the phrase of "I Purple You." Ever since the phrase was first coined, people have been swearing-in, to the colour. Can the craze end any sooner? We don't think so! After celebrating 1000 days of the famous phrase of love, BTS fans, today, on November 13, 2019, are observing the third anniversary of the same. Dedicating to their favourite K-Pop singer, people are trending "I Purple You Day," accompanied by trending hashtag and videos of the moment, when Taehyung explained its meaning. Twitter is flooded with I Purple You tweets. If you live under the rock and wondering what the phrase could mean and why "I Purple You Day" is trending online, here we explain to you! Marvel Fans Get into a Twitter War With BTS Army for Stealing Tony Stark's 'Love You 3000' Phrase to Promote the K-Pop Band. 
Three years ago, BTS member, Taehyung introduced and explained to the ARMY, the phrase of "I Purple You." The 23-year-old Korean singer who goes by the stage name, V, told the colour purple was a hue of love. "Do you know what purple means? Purple is the last colour of the rainbow. Purple means I will trust and love you for a long time. I just made it up," he said at a live concert. "I wish I could see you for a long time just like the meaning of purple," he continued. BTS Member V's Adorable Dog Video Has Left All Fans Going Awww... Watch Cute Video of Tannie. 
Watch Video: Taehyung Explaining the Meaning of 'I Purple You'
Since today is the 3rd anniversary of "I PURPLE YOU" day, please reply with purple hearts or reply with "I purple you!" then tag @BTS_twt, and i'll screen record it later! Spread love! BORAHAE ARMYS 💜

— DADDEH (@vminggukx) November 13, 2019
The audience roared in response to Taehyun's statement. But his BTS band members were stunned to see how he managed to create such a beautiful meaning for the vibrant shade. Ever since then, BTS fans have used the colour purple to express their love and affection towards the band.
I Purple You!
From the Empire state building to the Arc at Wembley UK to Busan bridge Korea to places in Saudi Arabia...BTS have impact Worldwide and so does Tae's phrase #IPurpleYouDay @BTS_twt pic.twitter.com/TmdtXQI2B5

— 💜•-•💜 (@jkvvjk_) November 13, 2019
Three Years Since 'I Purple You' Was Coined!
[OLD] It's been 3 years since Tae gave a whole new meaning to the color purple and 'I Purple You' was born, a phrase that has special meaning for BTS and ARMYs around the world!

'to believe and trust in each other, and to love each other for a long time' @BTS_twt #IPurpleYouDay pic.twitter.com/lGQcfRxJ9O

— BTS Throwbacks💜 (@ThrowbacksBTS) November 13, 2019
Oh Yes!!
ARMYs are turning the world purple as they celebrate #IPurpleYouDay 💜✨

In less than 6 hours, the hashtag became the # 1 worldwide trend on Twitter 🌎 @BTS_twt pic.twitter.com/sDk7IRxKEU

— BTS • ARMY Research 🔍 (@ResearchBTS) November 13, 2019
BTS Army!
Because of V "I Purple U"

•ARMY invented Purple Ribbon Project

•Famous buildings & streets light up purple for BTS

•ABC TV reporters wore purple for BTS

•BTS concerts turn purple oceans.

•💜is now ARMY most used emoji

•Purple stands for BTS & ARMY.

#IPurpleYouDay @BTS_twt pic.twitter.com/tKKFjAN3r8

— BTS WORLDWIDE 🌎 (@btsworldwider) November 13, 2019
And today it is the third year, since Taehyun coined the phrase. Yes, he might have just made that up amidst a live concert. But his expression genuinely has a deeper meaning. The wave of the colour purple has served the band well and so their devoted fans. The music band continues to break all the records with the release of their third concert film, Bring the Soul: The Movie. It was released reportedly in 110 countries and is considered the band's most comprehensive film release ever.