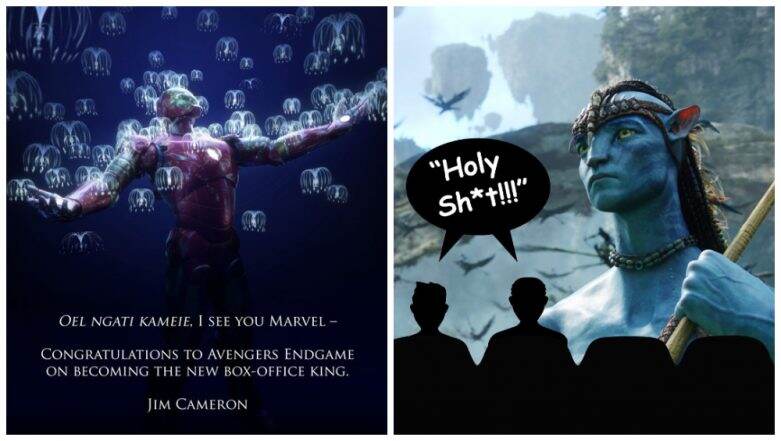 Avengers: Endgame has hit the jackpot. The superhero movie has become the highest-grossing movie of all time in the world. The coveted position was held by James Cameron directed Avatar since 2009. But with a box office collection of $2.7902 billion, Avengers: Endgame dethroned Avatar on Sunday. The event coincided with Marvel Studios' Hall H presentation at San Diego Comic-Con 2019. James Cameron, who literally developed the Fusion Camera System to shoot the film, was unnerved by losing the title. He even congratulated the team Avengers: Endgame with cool graphic art. In the picture, posted by James, Iron Man can be seen, with some inhabitants of the alien world of Avatar floating around. James Cameron Gives Shoutout to Avengers Endgame Makers For Making His 'Titanic' Sink!
The Russo Brothers, directors of Avengers: Endgame, did not hold themselves back from replying emotionally to James' post. They shared that James movies like Titanic, Avatar, Alien and Terminator are the reason they developed an interest in cinema. Avengers Endgame Blu-Ray Trailer: Tony Stark Tries to Shave Rocket's Fur in This Deleted Scene (Watch Video).
Check out James Cameron's post here:
Congratulations, @MarvelStudios! pic.twitter.com/DWZDX0uDVi

— Avatar (@officialavatar) July 22, 2019
Check out Russo Brothers' response here:
To @JimCameron- you're a monumental reason why we fell in love with film in the first place. Thank you for always inspiring us and opening the world's eyes to what's possible. We can't wait to see where you take us next... pic.twitter.com/nrOqKVjGFa

— Russo Brothers (@Russo_Brothers) July 22, 2019
Avengers: Endgame might not hold that position of a world topper for a long time. The sequel to Avatar is on its way, after more than a decade worth of wait. Avatar 2 is slated to release in December 2021. By then Marvel Cinematic Universe will be well into its phase 4 with movies like Black Widow, The Eternals, Thor: Love and Thunder, Doctor Strange in the Multiverse of Madness, giving Avatar 2 a tough competition. But again, the James Cameron directorial will be taking us under the ocean this time around, so the hype for it will also be super high. We already cannot wait to update what happens to this contest.