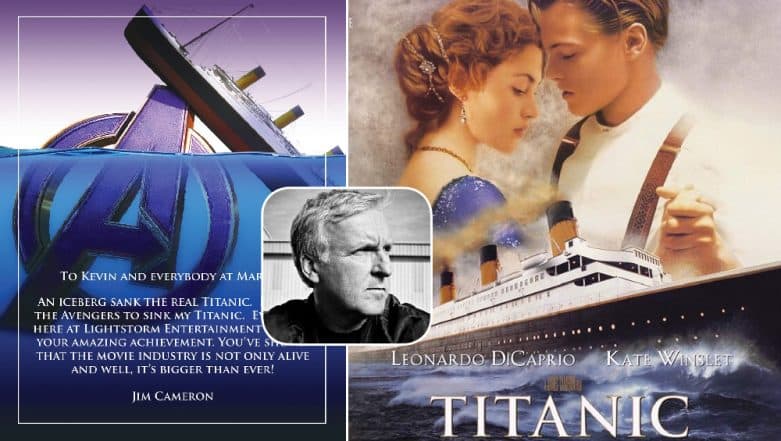 The latest Hollywood superhero flick Avengers: Endgame directed by the Russo Brothers released on April 26 and this movie has been a hit worldwide. Be it the plot, direction, performance of the star cast, visual effects, you name it and it has a positive word of mouth from the Marvel fans and others across the globe. Avengers: Endgame has shattered all box office records within days of its release and it also managed to sink James Cameron's film, Titanic. The ace filmmaker has shared a tweet in which he has given a shout-out to the film's producer Kevin Feige and everybody at Marvel for making his 'Titanic' sink. Avengers Endgame Box Office Collection Day 12: After Holding Up Well on Monday, The Marvel Movie Witnesses a Dip on its Second Tuesday.
It has been hardly two weeks since Avengers: Endgame has hit the screens and it has already garnered $2.2 billion whereas Titanic's lifetime collection was $2.1 billion. Will Anthony Russo and Joe Russo's directorial manage to break record of Avatar which was also directed by James Cameron? In his tweet he wrote, "To Kevin (Feige, producer) and everyone at Marvel, an iceberg sank the real Titanic. It took the Avengers to sink my Titanic. Everyone here at Lightstorm Entertainment salutes your amazing achievement. You've shown that movie industry is not only alive and well, it's bigger than ever." Avengers EndGame Box Office: 5 Rules That the Marvel Film Broke in India As It Races Past Rs 300 Crore Mark!
Checkout James Cameron's tweet below:
— James Cameron (@JimCameron) May 9, 2019
On seeing James Cameron's tweet there were many Marvel fans who appreciated it and also wished him good luck and showed him support for his next flick, Avatar 2. It was just recently announced that this film will release worldwide on December 17, 2021.