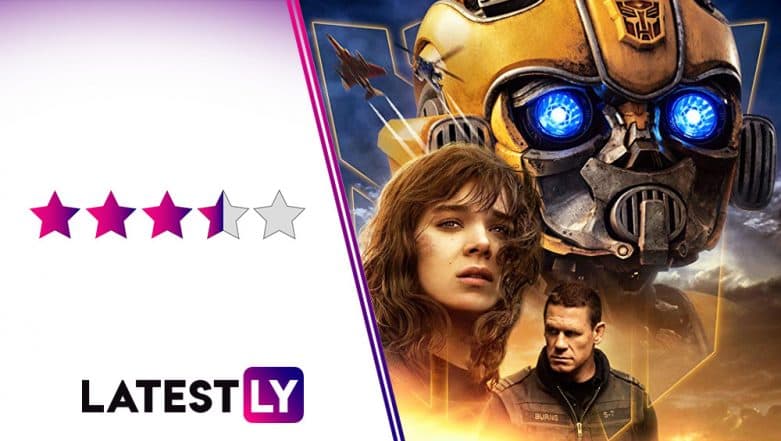 Whenever you hear that a Transformers movie is in the works, you might be groaning inwardly on how much more can they milk out of having robots beat the shit out of each other. The astoundingly great box office numbers received by each entry in the franchise, inversely proportional to their critical acclaim, meant encouragement, even if the movies were getting sillier by the day. The last Transformers movie, Last Knight, underperformed at the box office, despite a bonkers premise involving an Optimus Prime gone rogue, Nazi killing bots and Sir Anthony Hopkins bromancing a crazy butler robot. It was, perhaps, the first movie I actually walked out before it ended. Bumblebee Trailer Looks More Awesome Than All the Transformers Movies Combined – Watch Video
Bumblebee changes a lot about the drowning franchise than you expect. For one, it acts as both a spin-off and a prequel to the main canon, while also paving a new path for more movies to come. It also relegates regular director Michael Bay to merely a producer capacity while Travis Knight of Kubo and Two Strings (don't miss out on this animated gem) fame has been handled the reins. But the biggest change that Bumblebee brings to the franchise is that it is so good! There is nothing milestone-breaking here, but when have you heard a live-action Transformers film with a positive adjective attached to it?
Set during the '80s, planet Cybertron, the home of the Transformers, is on the verge of destruction owing to the vicious battle between Autobots and Decepticons. Optimus Prime sends his most trusted bot, B-127 to Earth to protect the planet and make it safe for the Autobots to hide. While landing on our planet, B-127 loses his voice box and his memory in a skirmish with a Decepticon, while also getting on the wrong side of an army major (John Cena).
Having transformed himself into a Beetle, the Autobot comes into the possession of Charlie (Hailee Steinfeld), a teenager filled with abandonment issues. Soon a warm friendship develops between these two, as Charlie anoints B-127 as Bumblebee and teaches him how to survive on Earth.
There is actually nothing novel about the whole premise of Bumblebee, but that's never the point. The moral of the story is that we finally have a Transformers movie that manages to bring in genuine smiles and emotions in you, even if I pin the story as Pete's Dragon turned into a Autobot movie. Not to mention, other influences from ET, How to Train Your Dragon, Iron Giant, and not to mention, King Kong. And since the human protagonist is a teen revelling in the angst of the '80s, how can we miss out on the whole John Hughes vibe? So we also have a cute Breakfast Club moment thrown in too! The New Bumblebee Teaser Offers New But Old-School Looks Of Transformers Optimus Prime And Soundwave! Watch Video.
Yet, despite the numerous times we have seen such unusual bondings on screen before, there is something extremely endearing about the friendship between Charlie and Bumblebee. Sure, we might have to overlook the fact on how quickly Charlie gets over the fact that her car can turn into a robot right in her little garage. That glitch aside, there is plenty to connect with their friendship, and, to quote Jerry Maguire, how they complete each other in a peculiar sense. While Charlie tries to help get Bumblebee his voice and memories back, the Autobot assists the girl get her groove back in his adorable way.
Lot of credit on why this pairing works should go to Knight's direction, creating a nice musical setting with '80s pop for it to grow on, and of course, Hailee Steinfeld's fantastic performance. In Charlie, she finally brings a very relatable protagonist filled with likability and devoid of smarminess. Something, I cannot say about the previous two protagonists, no offense to Shia LaBeouf and Mark Wahlberg. While her character feels kind of an extension to what she did in The Edge of Seventeen (with less sexual exploration), but Hailee's committed performance wins you over.
Even the plotline about her family (Pamela Adlon, Stephen Schneider, Jason Drucker) doesn't feel tacked on and they get to have their goofy moments. Her sort-of love interest (Jorge Lendeborg Jr) also doesn't feel distracting.
However, I really wish that Bumblebee could have given the charismatic John Cena more to do with his character. He was very likable in his intro scene, though after that, he is, more or less, reduced to barking out orders with a stoic face. His anguish and distrust against Bumblebee is understandable, however, in the act of developing the friendship track, Cena's part gets reduced scope. I am grateful, though, that he isn't as reckless as Samuel L Jackson's character was in Kong Skull Island, and there is a chance that he might return for the sequel.
Cena also gets to make a very funny line about why humans (SPOILER ALERT) should not exactly trust aliens who go by the name 'Decepticons' (SPOILER ALERT ends).
This brings us to the humour, which also feels like a huge improvement from the earlier films. The writers have rightfully ditched all the pee jokes and bring in decent comic bits that aren't MCU hilarious but won't make you cringe either. The casual sexism is also reduced, though not completely devoid. Instead of obsessing over female midriffs, we now have boys taking their shirts off. It's as if Knight is trolling either the previous films in the franchise or its detractors who accused the series of sexism.
Watch the trailer of Bumblebee here - 
The action scenes are very much contained and not a CGI-fest, another drawback in the previous movies. The final series of fights feel stretched, but at least, you know who is fighting who. I particularly loved the brief, opening battle sequence on Cybertron that gives out that old Star Wars kind of vibe. The VFX is really good, though you can spot the green screens in a couple of scenes.
Yay!
- Hailee Steinfeld
- The friendship track
- Travis Knight's contained direction
- The VFX
Nay!
- John Cena's reduced role
- A predictable premise
Final Thoughts
Thanks to a stirring, lovely friendship track and Hailee Steinfeld's performance, Bumblebee is surprisingly affecting and easily the best in the Transformers franchise. With that thought in mind, 2019 surely looks promising when it comes to Hollywood movies. If they can get Transformers right, nothing feels impossible!