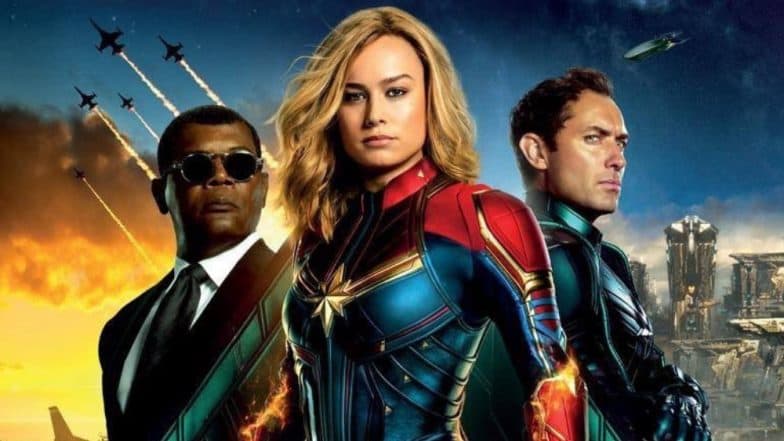 Disney and Marvel have released the international poster of Captain Marvel. With Brie Larson in her Captain Marvel suit, she is joined by Nick Fury (played by Samuel L Jackson) with both his eyes and possibly Yon-Rogg? (essayed by Jude Law) and her Star Force, they seem ready for combat. The new poster surely is quite cool. During the 2019 Super Bowl spot, Marvel Studios did share a clip of the upcoming film. Needless to say, it was super cool.
With the slogan, "HIGHER. FURTHER. FASTER. Baby." While the poster doesn't do justice to the latest promo that Captain Marvel had to present, we can't say we're all disappointed. In the poster, Brie Larson as Carol Danvers looks pretty cool with blazing hands and intrigue on her face. Nick Fury too looks like one of the Men In Black dudes with black sunglasses, a prim and proper suit and Jude Law, probably as Yon-Rogg, keeps his mystery factor on a check. The poster also places emphasis on characters Korath (Djimon Hounsou), Minn-Erva (Gemma Chan), Att-Lass (Algenis Pérez Soto), and Bron-Char (Rune Temte).
Here's the new international poster for Marvel Studios' #CaptainMarvel! pic.twitter.com/BZom3Drmxp

— Captain Marvel (@captainmarvel) February 4, 2019
Set to release on March 8, the film is highly-anticipated as it will give a peek at Captain Marvel's past and give us an idea of what the fate of the Avengers is in Endgame. Since in the post-credit of Avengers: Infinity War had Nick Fury page Captain Marvel, before perishing into ashes, it is believed that she will be the one to save the others from Thanos or maybe a force bigger than him? Perhaps she will bring back some of the lost heroes too!