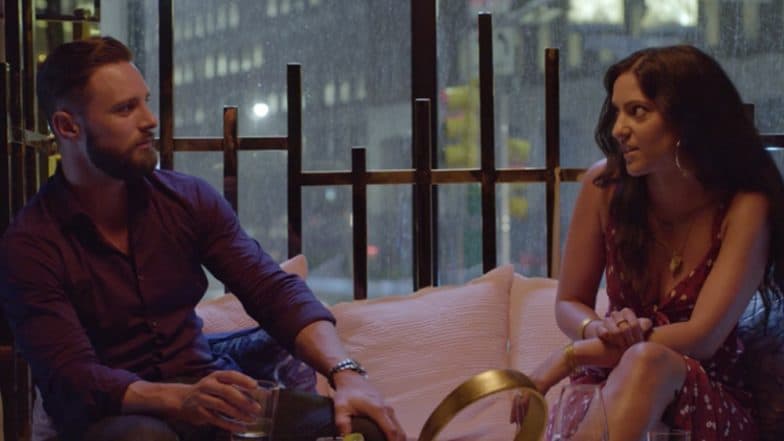 Netflix has released its first dating show called - Dating Around. For the most part of it, Dating Around is a mellow show that you might want to watch while sipping a drink with your gang. Minus one particularly nasty moment on the show. During that moment you'd want to smash the screen and throw your drink on whoever that man is on TV. At least that is what most viewers wanted to do -- going by the angry angry tweets going viral on Twitter. Dating Around episodes feature a young singleton going on several dates with several prospects. In the second episode, an Indian woman, Gurki, who got divorced at 32, lands a misfortunate date with a New Yorker named Justin. Blow Job Memes Go Viral After FYRE Festival's Andy King Confesses to Performing Oral Sex For Bottled Water in Netflix Documentary.
The date goes decently until the final few minutes of it. The final two minutes or so has our beloved Justin explaining what it means to be in love in New York to Gurki. We'd love to hear what Gurki's point of view was but we can't because dapper dude Justin didn't let her speak. He, as said by some on Twitter, mansplained love to the Indian woman.
So, Netflix decided to upload the video of the batsh*t crazy bad date on Twitter. The video reached out to more than the people who watched the show itself. Oh, we get it now. Hilarious Bird Box Memes Go Viral Even As Netflix Scrambles to Stop The Dangerous #BirdBoxChallenge.
So, check out the video here first:
Wanna watch a really bad date? pic.twitter.com/KVgJNIWz0h

— Netflix US (@netflix) February 15, 2019
A white man speaking over an Indian woman & trying to shame her, gaslight her, & her tell her about HER culture is absolutely racist and misogynistic. He wouldn't have had that energy with a white woman.

— sydneysky🌸 (@fatfemmfatale) February 17, 2019
Infuriated, right? These people felt the same. See some of the best reactions that the video received.
I really wanted to jump through my phone at that point

— Divine🌻🌞 (@DivineLabyrint) February 17, 2019
I'm watching Dating Around on Netflix and all I want is to find the woman from episode 2 to tell her that guy was a racist jackass and that she is a strong and beautiful woman. (If you've seen this show you know which dude I'm talking about)

— Kasey 🌙 (@kaseylynnxo) February 18, 2019
The racist white guy just tore down Gurki just b/c over love in a relationship. He questioned her ability to love b/c Gurki disagreed him. It was so unnecessary. #DatingAround

— .....ok (@geminibeams) February 18, 2019
@gurkibasra I think you're profoundly beautiful, and that guy on dating around was an asshole and a racist...I hope he learned from watching himself and evolved...don't listen to him, if only life could support a GF right now I would want to be with someone like you :)

— Brian (@neutrino78x) February 18, 2019
So dude in Gurki's episode of #DatingAround was actually a racist narcissistic misogynistic ass. I cannot believe she endured that.

— M. Van Der Woodsen♛✨🌹 (@QueenMieshaaaaa) February 18, 2019
I'd never date a guy who'd make me give up my cats. Justin is a freaking asshole. He made the woman give up her cat and then dumped her. He's also a racist!!! #DatingAround

— Penny Moore (@precociouspenny) February 17, 2019
Of course, Twitter was able to give some major burns to the guy with wit and humour
The fact that he said she was lying when her marriage was arranged and culturally it's very different than in the US.....like.....white men cant accept that there is a culture outside of being a white man.

— ✨ 𝔗𝔞𝔲𝔯𝔲𝔰 ✨ (@Kswizz_) February 17, 2019
Girl : h-

Dude : hOW cAn I EvEr TRusT U?

— bitchslappin (@ushalaks) February 16, 2019
gaslighting 101: chapter 3

— ✌️Topsy Kretts (@DaTwystedVyxen) February 17, 2019
Love. Mansplained 🤦🏽‍♂️

— Philip C (@cupplespaC) February 15, 2019
Me trying to continue watching this. pic.twitter.com/DP8YlBeAVq

— Jack Spade (@HornyForHealth) February 17, 2019
The fact that HE got to be the one to storm off from the date is the icing on the fucking rage cake. What a man-baby.

Also, while all of his points are bad, I feel the need to mention that it's not that weird to be divorced at 32. That's like, prime second marriage age.

— The Forever Phantom (@SHRAAAMP) February 17, 2019
What do you think about the video from Dating Around? Do you think Justin was being unnecessarily rude to Gurki? Or do you think he had a point? Tweet to us @latestly.