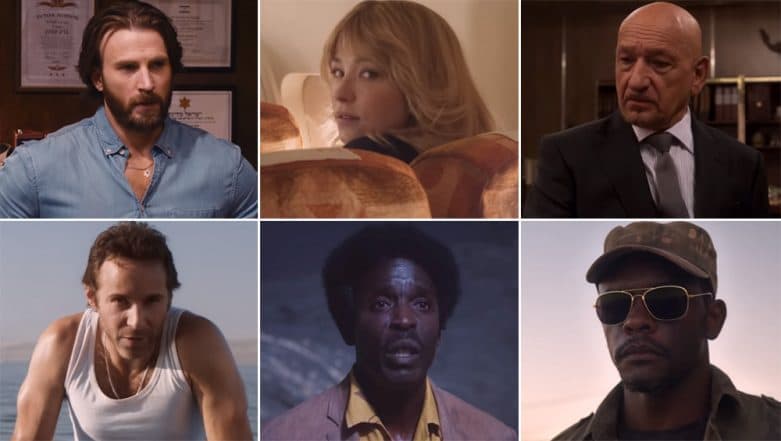 The trailer of the Netflix original film, The Red Sea Diving Resort is out. First thought? Major Argo vibes. But both the movies are based on real-life events, so that debate is settled right there. The Red Sea Diving Resort stars Chris Evans and going by his beard we think he shot for the film along with Avengers: Infinity War. The trailer of the film tells us that Chris will be at his saviour best once again after MCU films. He plays an international agent Ari Levinson, who leads a mission to smuggle thousands of refugees to Israel from Sudan in the '80s. The group uses an abandoned holiday resort as a cover to carry out the task. Knives Out Trailer: Chris Evans and Daniel Craig's Star-Studded Film Adds a Dangerously Stylish Spin to Agatha Christie's Murder Mystery.
The Red Sea Diving Resort trailer manages to pique interest. The cinematography looks good and the background music has enough beats for you to blast it during a workout session. Despite being in the thrilling zone, the first footage of the film makes it clear that it will be brimming with emotionally charged moments as well. It is not just your run of the mill action film, but a humane story at the crux. Robert Downey Jr Wishes 'America's Ass' aka Chris Evans With a Hilarious Birthday Post, Leaves Avengers: Endgame Fans in Splits.
Watch The Trailer of The Red Sea Diving Resort Here:
The Red Sea Diving Resort also stars Michael Kenneth Williams playing the lead role alongside Chris. Other key characters are played by well-known actors like Haley Bennett, Alessandro Nivola, Michiel Huisman, Chris Chalk, Greg Kinnear and Ben Kingsley. The movie is based on the book Mossad Exodus by Gad Shimron, which is quite a page-turner. We hope it has been reflected well on screen. The Red Sea Diving Resort will release on Netflix on July 31, and after the trailer, we are eagerly looking forward to it.