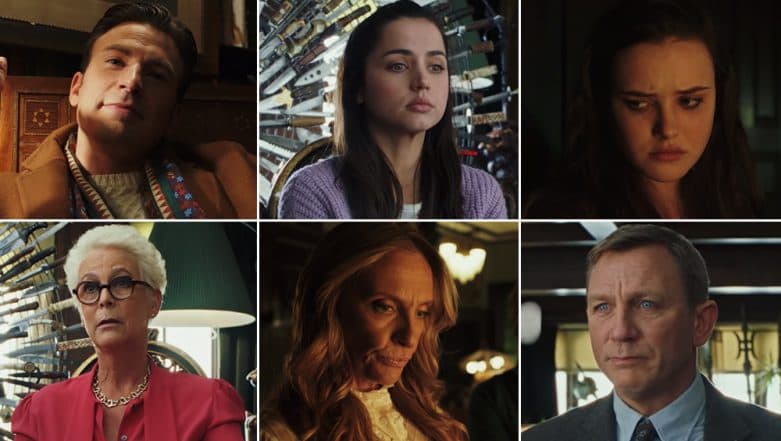 This film is that rare occasion where superheroes and special agents come together, yes would you have ever imagined a film with Captain America and James Bond together in a film. Knives Out stars Chris Evans, Daniel Craig in lead roles along with Jamie Lee Curtis, Toni Collette, Don Johnson, Michael Shannon, LaKeith Stanfield, Katherine Langford and Christopher Plummer. The film is a whodunnit that pays tribute to mystery mastermind Agatha Christie. Bond 25: Daniel Craig's First Look as James Bond From the Movie OUT; BTS Video Reveals Exciting Footage From the Shoot.
The film revolves around the murder mystery revolving around the old father's death that has nearly all the members of the family under suspicion. Daniel Craig plays detective Benoit Blanc, while Chris Evans is seen playing a rather brash character. The trailer has some really great moments and one of the best comes towards the end, the funny interaction between Evans and Craig's character.  Avengers Endgame Actor Chris Evans Slams Men From His Hometown Planning a Straight Pride Parade.
Check out the trailer here:
The film's synopsis states, after a renowned crime novelist Harlan Thrombey (Christopher Plummer) is found dead at his estate just after his 85th birthday, the inquisitive and debonair Detective Benoit Blanc (Daniel Craig) is mysteriously enlisted to investigate.
It does seem like from the trailer that the film is going to be an intriguing edge-of-the-seat murder mystery. With that stellar cast, we are sure the film has a lot more to offer than any other regular whodunnit. This is Chris Evans' first film after Avengers: Endgame that will hit the theatres and fans have been excited to see what the Captain America star does after the end of the Marvel franchise.
Knives Out is helmed by Rian Johnson and is all set to release on November 27 in the US.