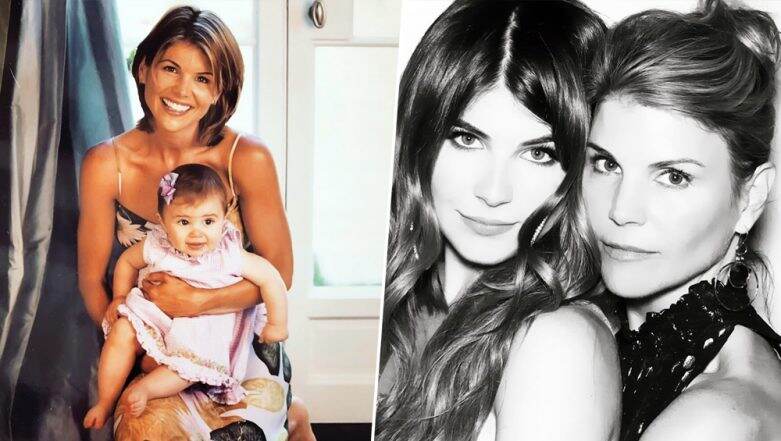 Lori Loughlin and daughters have had a rocky relationship ever since the college bride scandal broke out. The elder daughter, Olivia Jade also went to the extent of saying her parents ruined her life after they were caught bribing the USC $500,000 to get their daughter a seat. After the last update, things seemed to be cooling down in the Giannulli-Loughlin home. Have daughters Olivia and Bella forgiven their mother by posting birthday wishes for her on their Instagram? Lori Loughlin and Olivia Jade Not on Talking Terms? Mother-Daughter Tensions on the Rise Even After College Bribery Drama Dies.
On July 28, Lori Loughlin turned 55. To everyone's surprise, Bella Giannulli, Lori's younger daughter made a comeback to Instagram after 26 weeks hiatus just to wish her mother a happy birthday. Her caption read, "happy birthday mama. I love you ❤️". Not only that, Olivia commented on the post three hours later with "my people ❤️". Candace Cameron-Bure, who plays DJ Tanner in the sitcoms Full House and Fuller House also left a comment saying, "Happy birthday to your mama!!!!!!!". Candace had gotten herself in some drama when she supported Lori amid the college bribery case. Hollywood Actresses Felicity Huffman and Lori Loughlin Charged in the Biggest College Admissions Cheating Scandal.
Bella's Post for Lori
View this post on Instagram
A day later, Olivia posted an old picture of her and Lori. In the baby picture, Lori is holding Olivia in her arms and giving us serious Aunt Becky vibes. Her caption read, "one day late. happy birthday. i love you so much ❤️". Sister, Bella commented on the post with a heart emoji.
Baby Olivia and Lori
View this post on Instagram
According to sources, things were slowly going back to normal in the family. An insider tells Entertainment, "The drama seems to have died down since the initial shock [of the arrests]". Olivia went from blaming her mother for ruining her life to "I love you so much". Maybe the family is back to being the way they were and have left their past quarrels in the past.