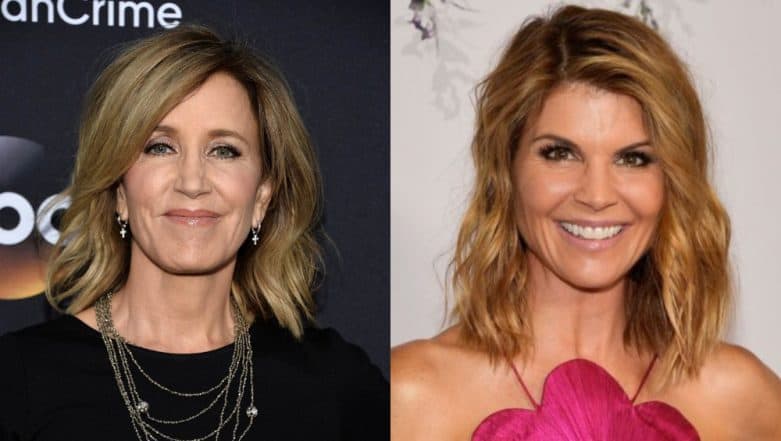 Desperate Housewives actress Felicity Huffman has been arrested by the American police as they uncovered, what is being called, the biggest college admissions scam in the US. As per a report by TMZ, she is currently in custody. The police have charged around 50 people who were a part of this scam, paying copious amounts of money to secure a seat in Ivy league colleges for their kids. The list of names also includes celebrities and Felicity is only one of them. The actress has featured in the hit TV show Desperate Housewives. Read on to find out the names of other celebs on the list. Shahrukh Khan, Other Bollywood Actors Issued Notice by Cyberabad Police in Multi-Crore Qnet Scam.
As per a report by the New York Times, police cracked down on wealthy and influential parents who bribed in millions of dollars to secure seats in schools like Yale and the University of Southern California. Athletic coaches and exam administrators have been accused of fabricating students' achievements for easier admissions. The NYT was able to access the list including 50 names.
The report reveals that Full House and 90210 actress, Lori Loughlin, has also been charged by the police. The reports don't reveal if she is custody or not. Her husband, Mossimo Giannulli, has also been charged.
Here's the full list, as per The New York Times:
Gregory Abbott
Marcia Abbott
Gamal Abdelaziz
Diane Blake
Todd Blake
Jane Buckingham
Gordon Caplan
Michael Center
I-Hsin "Joey" Chen
Amy Colburn
Gregory Colburn
Igor Dvorskiy
Gordon Ernst
William Ferguson
Robert Flaxman
Martin Fox
Mossimo Giannulli
Donna Heinel
Elizabeth Henriquez
Manuel Henriquez
Douglas Hodge
Felicity Huffman
Agustin Huneeus, Jr.
Bruce Isackson
Davina Isackson
Michelle Janavs
Laura Janke
Ali Khosroshahin
Elisabeth Kimmel
Marjorie Klapper
Lori Loughlin
Toby MacFarlane
Steven Masera
William McGlashan
Rudolph Meredith
Marci Palatella
Mark Riddell
Jorge Salcedo
Mikaela Sanford
Peter Jan Sartorio
Stephen Semprevivo
David Sidoo
William Rick Singer
Devin Sloane
John Vandemoer
Jovan Vavic
Niki Williams
John Wilson
Homayoun Zadeh
Robert Zangrillo
More information is yet to surface on the alleged cheating scandal. The lawyers of the actresses are also yet to comment. We will be closely following the development in the case. Stay tuned.