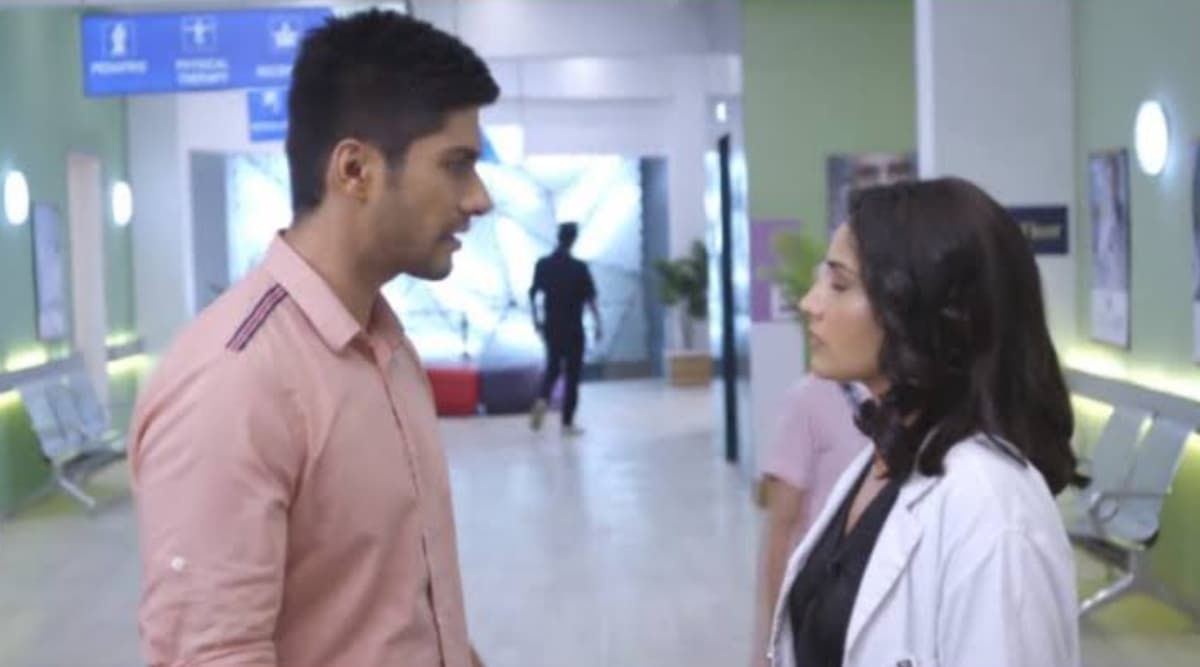 In the last episode of Sanjivani 2 we saw Sid and Ishaani struggle with their feelings for each other while Juhi shares her opinion with Anjali. Later, a terrified Ishaani is held at knifepoint. Tonight's episode starts with Ishaani (Surbhi Chandna) at gunpoint, some goons attacked them, Sid (Namit Khanna) fights back with them. Ishaani comes and saves Sid, later  Sid fight with goons. Sanjivani 2 November 8, 2019 Written Update Full Episode: Sid and Ishaani Struggle With their Feelings for Each Other.
On the other side, Asha calls Vardhan (Ronit Roy) and asks why was he calling her so many times. Vardhan says now is the time they should attack Sid's professional life and tells her the plan and orders her to do as he told her. Meanwhile,  the goons held Sid and Ishaani captive and tie them with the tree. Ishaani and Sid see others and reminisces about the good times they had. Sid confesses that he cannot stay without her and he loves her very much, Ishaani tells him not to talk this thing now as he is married now. Later Ishaani tells Sid that they should try and untie the rope and free themselves, they try and remove the rope and get freed.
Meanwhile,  a V.I.P patient calls Vardhan and tells him he wants an appointment to come and meet, he tells him to come and no need for an appointment.  Later Vardhan thinks he will give this case to Shashank and then plan to trap him. On the other side, Neil and Rahiil discuss the V.I.P patient and they want to be the part of it as it is a high profile case. anjivani 2 November 7, 2019, Written Update Full Episode: Vardhan is Happy as he Separated Sid and Ishaani with the Help of Asha.
On the other side, Asha waits for Sid at home. Sid comes home, Asha asks why it took so late for him to come back. Asha tells Sid when he sees Ishaani does he feel that he took a wrong decision of marrying her, Sid says he just thought of the kid and took this decision and goes to cook for her. Just then he gets a call from Sanjivani, he leaves from there.
In Sanjivani hospital, Shashank discusses the case with the patient, Sid comes in as Shashank had called him. Shashank introduces Sid to the patient, later the patient who is a Commissioner tells Shashank that he wants Sid to operate him, Sid tells him that Shashank is the best doctor but the patient says he wants Sid to do it as his friend as recommended him. Vardhan gets tensed as his plan will fail if Shashank does not take this case.
Later, Sid apologies to Shashank (Mohnish Bahl) as the patient choose him. Shashank praises Sid's work and says he is proud of him and has full confidence that he will be successful in this surgery and bless him. Vardhan says that this operation will be a turning point in Sid's life and he won't forget him.
On the other side, when Ishaani is having her food, a paper roll over stone falls from outside, she opens and reads out. Sid has written in it that as her phone is stolen he could not call that is why he wrote this letter and tells about the surgery which he is going to conduct the next day, Ishaani feels proud of him and smiles, Sid sees her and is happy. In the precap. the operation starts, Sid does some mistake. Later Shashank chides him.