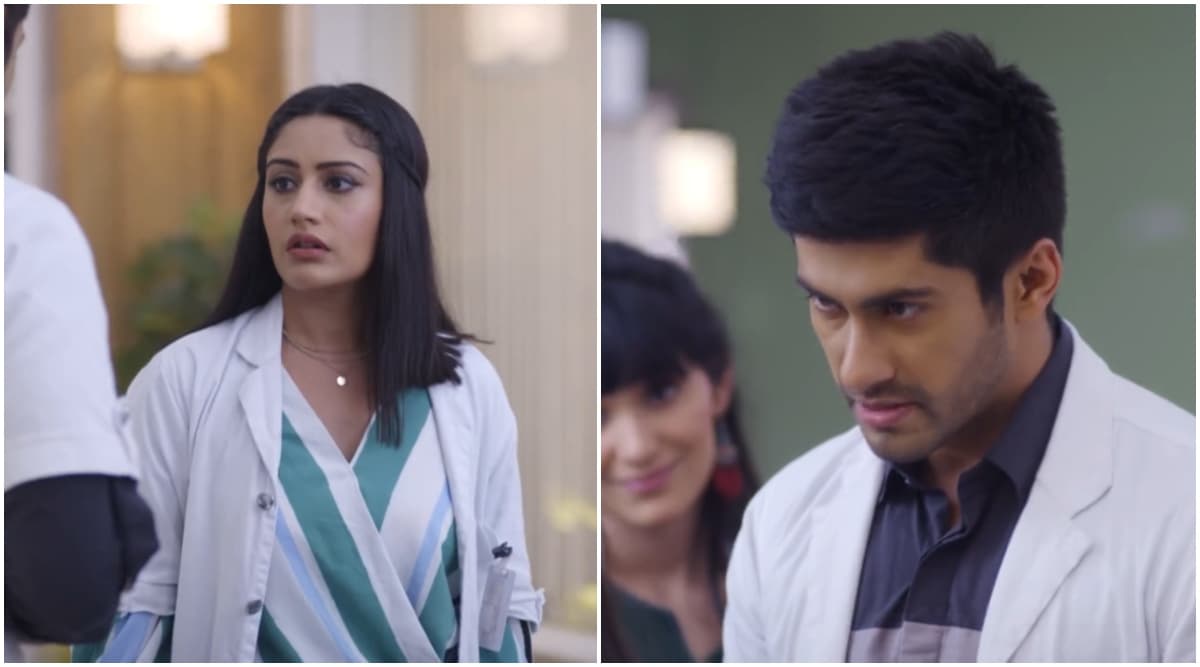 In yesterday's episode of Sanjivani 2, we saw Sid apologies to Ishaani but she makes a shocking statement about their relationship. Elsewhere, Vardhan explains his evil plan to an unexpected accomplice. Tonight's episode starts with Ishaani (Surbhi Chandna) comes to Sanjivani, she dashes with Sid (Namit Khanna), they both greet each other and go their way. Vardhan (Ronit Roy) watches them from far and smiles, and thinks what all love can do and says if this love comes between his plan then he will not leave them. Just then a patient comes who gets violent and pushes Ishaani aside, Sid goes to check her if she is hurt, Ishaani says she is fine. Sanjivani 2 November 7, 2019, Written Update Full Episode: Vardhan is Happy as he Separated Sid and Ishaani with the Help of Asha.
On the other side, Asha comes there and reminisces what Vardhan told her, that she should make Sid's life hell, she comes near Ishaani and taunts Ishaani that her love has now become a husband of someone. Ishaani apologies to Asha, later Asha tells Sid that mother has called home early today so they have to leave. Ishaani gets emotional. Just then a phone rings, Ishaani and Neil see it and come to know it is Asha's phone.
Meanwhile, Vardhan tries to call Asha but she is not picking his phone and gets disturbed, just then Anjali  (Sayantani Ghosh) comes and asks whom he is trying to call, Vardhan says he was calling her only. Seeing Anjali disturbed he asks for the reason, Anjali tells him that whatever she tries she can never separate Shashank (Mohnish Bahl) from Juhi (Gurdeep Kohli). Vardhan thinks he is will make Shashank suffer his whole life.
On the other side, Sid and Asha come home. Sid tells Asha to have her medicine and have food properly, later Sid goes to bring milk as he wants to make tea for Asha. Later, when Asha comes to know her phone is not there with her, she gets tensed as if someone gets it then she will be in trouble, she dials her number and comes to know that Ishaani has her phone and gets disturbed, Ishaani says she will send her phone home, just then Vardhan's call comes. Ishaani asks Asha why Vardhan is calling her again and again. Asha says maybe she took so many leaves that is why he is calling and tells Ishaani to switch off the phone as someone might call from her hometown. Ishaani tells her to calm down and later switch off the phone. Meanwhile, Vardhan messages Asha that if she does not pick up his call then she will be in great problem.
On the other side, Sid sees Asha in tension and asks for the reason, Asha tells it's just that her phone is left in the hospital and she told Ishaani to send it home. Later Sid prepares food for Asha and thinks about Ishaani as how he prepared food for her and misses her. Meanwhile, Ishaani comes home to return Asha's phone as no one was free in the hospital, Asha calls her inside but Ishaani says she has work and leaves. Outside, some political party rally is going on, Sid gets tensed as Ishaani left and goes behind her as she might not find an auto. Ishaani says she will manage and tells him to be with Asha and leaves. Suddenly some goons come and point a knife at Ishaani.
 In the precap, the goons start beating Sid, Ishaani fights back with them and saves him.