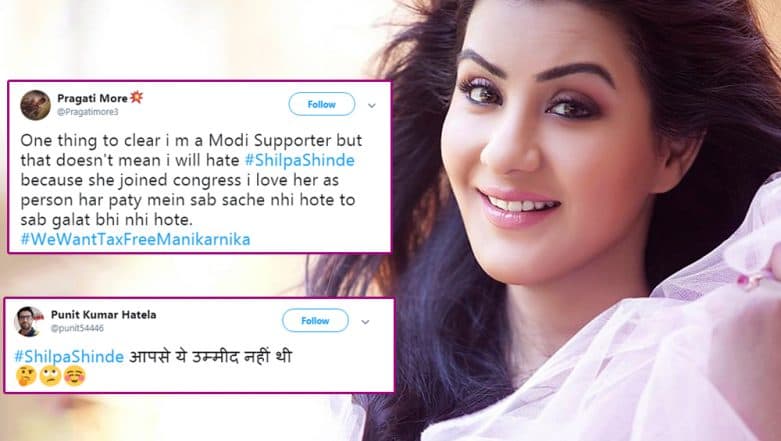 Shilpa Shinde's decision to enter politics did baffle one and all. It was definitely surprising and no one really saw it coming. And the fact that she quit Twitter just days before her big announcement is making her fans even more curious. Of course, they welcomed her decision with open arms but not everyone is mighty impressed with 'sahi' decision this time. After her exit from Bhabhiji Ghar Pe Hain and later her stint inside the Bigg Boss house, Shilpa is ready to start her new innings and we wish her all the best. But as we mentioned, her fans aren't really keen to see her as a politician just yet. Shilpa Shinde Reveals The Real Reason On Why She Decided To Quit Twitter.
We came across a couple of tweets on Twitter where the fans are either lauding her big decision or criticising her for taking the wrong step. Some are even voicing their displeasure for joining Congress and not BJP. While we have no qualms about her entering politics as a new field, check out some of the amusing reactions right below. Wait, What? Shilpa Shinde Fans Are Apologising to Hina Khan For Not Supporting Her!
The Good one
I'm happy that #ShilpaShinde joined politics. She never said no for it so why some are burning like hell. N a good person would work for people inspite of the organization they belong to. First we need to make a base n then wait for good opportunities..that's what Shilpa has done

— Saurabh 💫 (@ShilpasSaurabh) February 5, 2019
The Bad One
#ShilpaShinde joining Congress ?? OMG i voted for her In #biggboss .... I am shocked ... Is this true @ShindeAshutosh ? What a fall ...

— SagarMJ (@sagarmj0907) February 5, 2019
A true fan, we must say
#ShilpaShinde ji I am So Proud of U today 😘

Our Country really need Honest, Kind Hearted & Fearless People in Politics. U r a Best Human

Who hve the ideology of "Sacrifice" & "Jitna Dogye"..

BEST OF LUCK for the New Journey 💃U r a TRUE INSPIRATION..💃I m so 😊For U.. 😘 😘 pic.twitter.com/Z07RzeexCw

— Have Faith💖 (@HvFaith_in_Life) February 5, 2019
Oops, the hater we believe
ये bigg boss का ghar नही है #ShilpaShinde जो सब कुछ रोने धोने और किचन संभालने से काम चल जाएगा 👻👻👻

— shivendra pandey (@CskShivendra) February 5, 2019
He's clearly not happy
What have you done #ShilpaShinde??

I have vouched for you in #biggboss like anything.

But now I am sorry to say that I will not be your supporter.

Rahul Gandhi as PM of India?? I mean are you serious?

— 🇮🇳 Aashish (@AashishGundewar) February 5, 2019
He's not bothered at all
Bhabhi Ji Ghar Mein Nahin ..

Congress Mein Hain ~#ShilpaShinde

— mukesh vig (@vigmukesh) February 5, 2019
Has enough confidence in her, eh?
Even i don't understand...why should every body be either modi or rahul supporter.. I Hate politics and like none of them..But i love my shilpa shinde and will support her as i know she has a pure heart and will always help people.#ShilpaShinde #ShilpaInCongress

— Anitha💥loves Shilpa Shinde💥 (@anithagk77) February 5, 2019
True that
BB is over... please move on. You supported her in bb11 that doesn't mean you can control her life. You Stupid people. It's her life, Her choice , her decision. Who The hell are you.#IstandbyShilpa#ShilpaShinde

— 🏏AmyDZ💥 🇪🇸 (@Amy_dzudo) February 5, 2019
Not happy!
Galat pakde hain !!!!!#ShilpaShinde joins #Congress !!! 🙃

I totally respect her decision.... can't stand the party though 😐#ShilpaShinde #ShilpaFam

— Mouni🏏 (@myselfslayer) February 5, 2019
Sarcasm we believe
Congress Party has got gems :

Rahul Baba

Sherry Sidhu

Now Shilpa Shinde #ShilpaShinde

— Abhishek (@abhi3627) February 5, 2019
The decision to enter politics was formally announced today afternoon when Sanjay Nirupam and Shilpa Shinde declared the big news in a press conference. Will the TV actress contest the upcoming 2019 elections? If yes, from which constituency? These are the answers she has to answer and we'll wait to hear them.