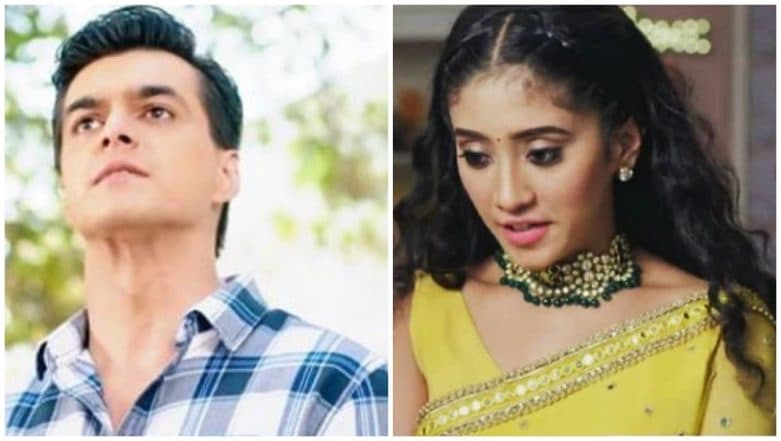 Today's episode of Yeh Rishta Kya Kehlata Hai starts with Luv and Kush asking where is Kartik (Mohsin Khan), Suhasini says he might be in the house only and tells Manish and Akhilesh to search for him. Suhasini brings the haldi and gives it to Kirti so that she can take it for Naira (Shivangi Joshi). There Naira is taking care of Krish and telling why is Kartik not responding to her call, just then Kirti comes with the haldi, Naira ask if she met Kartik, Kirti tells that she did not meet him as she had to come before the muhurat. Devyani and Kaveri tell Naira to get ready for the haldi function, they ask Kirti where is Kartik and did he say something to her, Kirti says she also does not know where he has gone. Naksh and Rishab hear this and get tense. Manish and all come to Naira's house to inquire if they know something about Kartik, Naksh gets angry and tells that he was the one who wanted to get married and now when all the rituals are going to start where has he gone. Manish tells him to relax and he will come back. Yeh Rishta Kya Kehlata Hai Spoilers: Naira and Kartik Patch Up After Having Bhaang; Naksh and Kirti Apologise To Everyone!
Meanwhile, Naira comes down and starts pulling out all decoration and throwing things here and there and cries. Naksh asks what is the problem and why is she crying, Naira flashbacks as when she went to get ready, Kartik had come to her room to tell her that he loves her but he cannot marry her. Naira asks why is he doing this, did she do something wrong and if some problem is there they will solve it together. Kartik says that he cannot explain it to her and goes from there.
Naira tells everyone that no marriage is going to happen as Kartik is not going to marry her and cries. There Kartik is walking on the road and remembering Naira (Yeh Rishta Kya Kehlata Hai track is played in the background). Naksh gets frustrated and says Kartik only wants to give pain to Naira and tells that this time he will punish Kartik so bad, that he remembers his whole life and goes from there. Kirti tries to stop him and says this time it is not Kartik's fault but her's. She says that because of her pain she blamed Naira and Kartik's relationship and separated them and that she is very sorry for that. Naksh tells her to tell clearly what has happened. Kirti narrates what all she had told Kartik. There Naira dances to lessen her anger and Kartik blames himself for what is going on. Naksh gets angry after Kirti tells him what she did. Yeh Rishta Kya Kehlata Hai March 21, 2019 Written Update Full Episode: Kartik Breaks His Marriage With Naira After Seeing Naksh and Kirti's Relationship Getting Affected by Their Marriage
Kartik comes home and tells that he has hurt them and that he is ready to hear their scoldings and asks forgiveness from them. Naksh comes there and says he is sorry for his behaviour towards Kartik. Naksh says that every time he blamed Kartik only even if it was not his fault and says that he is feeling guilty and ask forgiveness from him. Naksh says that he was not able to understand Kartik, as he did this all to save the family and folds his hand and tells him to forgive him for his behaviour. They hug each other. There Rishab makes Naira understand that she should be open and tell everything that is in her mind, Naira says she hates Kartik.
Kirti says that Naira is upset and he should go and make her understand. Kartik says this time nothing will happen and he will make Naira understand and bring her back in her life. There Naira in anger says that there is no relation between her and Kartik.
In the precap,  Kartik tries his best to make Naira understand that he loves her and wants to marry her.