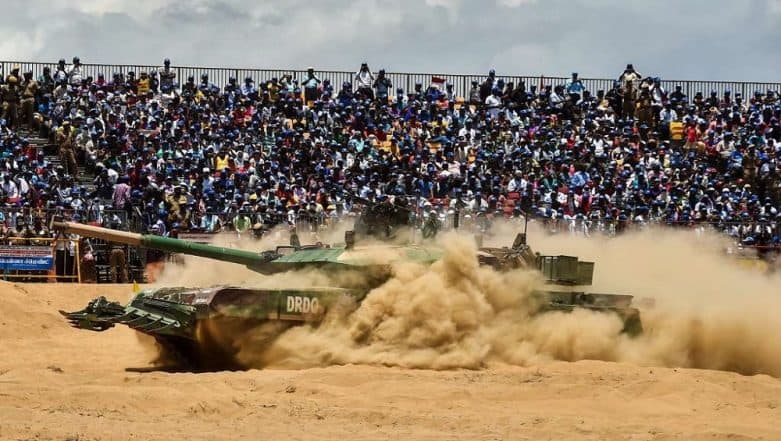 Chennai, April 16: DefExpo 2018 was held from April 11 – 14 at Thiruvidanthai on the East Coast Road (ECR) near Chennai. The main aim of this DefExpo was to promote India as a manufacturing hub of defence manufacturing products. The theme of the Defexpo 2018 is 'India: The Emerging Defence Manufacturing Hub'. More than 500 domestic companies and around 163 global players of defence manufacturing industry participated in the event. Delegations from 40 countries also participated in the exhibition.  Various foreign manufactures signed agreements with Indian partners to produce defence products in India. The major highlights of the DefeExpo 2018 are:
During the inauguration of the DefExpo 2018, Prime Mminister Narendra Modi launched the 'Make in India' pavilion at the DefExpo 2018. During his address the Prime Minister said, "This is an opportunity like none other not only to discuss India's defence requirements but also to showcase for the first time India's defence manufacturing capabilities to the world." Taking a jibe at China PM Modi also said, "Thousands of years of Indian history has showed us that we have never desired anybody's territory." He reiterated the point that India's commitment to peace was as strong as commitment to protect its people and territory.

Various global players signed agreements with Indian companies to get an order of 110 fighter jets from the Indian Air Force under the strategic partnership model. The fighter jets are to be produced in India with the transfer of technology. US based company Lockheed Martin signed a pact with Tata group to pitch for its fighter jet F-16 block 70., Where as another US-based company Boeing signed a deal with India's leading public sector unit Hindustan Aeronautics limited (HAL) and domestic company Mahindra Defence Systems to manufacture Super Hornet F/A 18 in India. Similarly another contender to get an order from the IAF is Swedish Company Saab. The Swedish Company signed an agreement with Adani group and pitched for Gripen-E to the Indain Air Force.

The US on Wednesday announced that it would transfer critical defence technology to India. Speaking at a US-India Business Council seminar on the first day of DefExpo-18 at Thiruvidanthai in Chennai, US envoy to India Kenneth Juster said, "The ties between New Delhi and Washington are sending a strong signal to other countries." He further added, "The US has designated India as a major defence partner and it is significant in many respects. The US Congress supports India on both sides of the aisle."

Seven Agreements were signed between India and Russian companies at DefExpo 2018 on Friday in Chennai to indeginise the manufacturing of spare parts of defence products. Forty Eight items covering all major platforms which can be made in India with Russian collaboration have been identified by the ministry of defence. The Indian Armed Forces  are pushing for joint ventures of Indian and Russian companies to give boost to the 'make in India' model.

On April 11, an Indian company Cyient Solutions & Systems, a provider of engineering design, manufacturing, geospatial, networks, and operations management services to global industry leaders has signed a deal with Israel-based BlueBird Eye System, a leader in design, development, and production of micro, mini, and small tactical Unmanned Aerial Systems (UAS) to provide Unarmed aerial Vehicle (UAV) to Indian defence, paramilitary forces and police services.

Larsen and Toubro and France-based defence major Nexter showcased their artillery systems at the ongoing DefExpo near here today. The Larsen and Toubro-Nexter consortium has been working since 2011 in building the partnership around one of the main Indian artillery programmes.

The Indian Navy exhibited its warship for public during the DefExpo. The four warships exhibited were: INS Sahyadri, INS Kamotra, INS Sumitra and INS Airavat. The Tejas fighter jets, advanced towed artillery gun systems (ATAGS) designed by the Defence Research and Development Organisation (DRDO) Arjun Mark 2 tank, Dhanush artillery guns were also displayed at the expo.

Defence and Research Development Organisation (DRDO) handed over three critical technologies to the Indian Navy during this expo. Defence Minister Nirmala Sitharaman handed these three technologies to Naval Chief Admiral Sunil Lanba. These critical technologies are: processor-based mines (PPBM), VLF modulator and heavy weight torpedo Varunastra.

The 97 metre long ICGS Vikram was commissioned into service on April 11, by Indian Minister of State for Defence, Subhash Bhamre. ICGS Vikram is the first in class of seven new-generation offshore patrol vessels (OPVs) built by Larsen and Toubro (L&T). Vikramis part of an INR $220 million contract awarded to Larsen & Toubro in March 2015 for seven vessels.

During in one of her addresses defence minister Nirmala Sitharaman made it clear that there was no shortage of any equipment and ammunition for the Armed Forces.
The DefExpo 2018 has attracted foreign defence manufacturing industries to invest in India. Various agreements were signed between foreign and domestic manufacturing firms to indigenise the production of defence goods under the strategic partnership model of 'make in India'. This has given a necessary impetus to the defence manufacturing industry of India.