Mumbai, August 31: Are banks going to be shut for six days in the first week of September? A message going viral on WhatsApp says that banks are going be shut on September 2,3,4,5,8 and 9. It also urges people to keep enough cash in hand saying ATMs may run dry because of continuous bank offs. However, the message circulating is fake and holds no truth.
Banks would be shut only on September 2 and September 8 and 9 which is a Sunday, Saturday and again Sunday. The other dates are being confused with the strike called by Reserve Bank of India (RBI) employees and Janmashtami.
Viral message on WhatsApp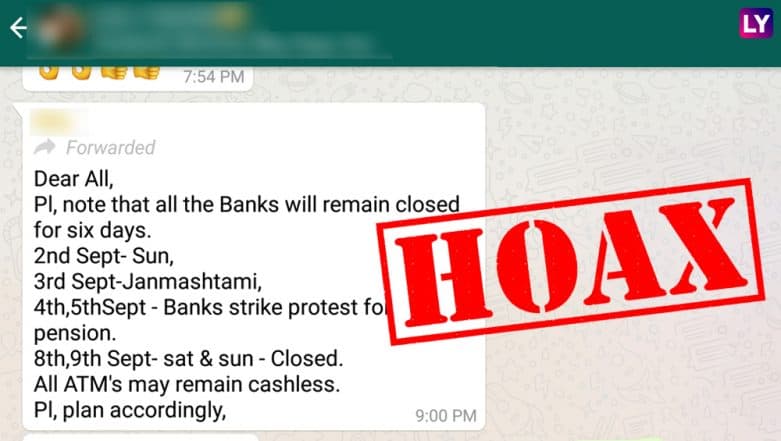 Here is a date by date breakdown of the message and all that you must know:
September 2 - It's a normal bank off since it's a Sunday

September 3 - Many offices across North India have a holiday due to Janmashtami. While the festival is not a bank holiday, some private banks who have a prescribed Janmashtami holiday in their calendar may be shut, but not across the country.

September 4 and 5 - These two days, the staff of RBI has called for a 2-day mass casual leave. The United Forum of Reserve Bank Officers and Employees (UFRBOE) has called for the strike demanding providing an option to contributory provident fund (CPF) retainers to switch over to pension scheme, and grant of additional provident fund (APF) to those recruited in the bank from 2012. However, the strike is only likely to affect transactions involving large sums and digital transactions.

September 8 and 9 - The two days are again general bank off days since September 8 is the second Saturday of the month and September 9 is a Sunday.
Hence, people are advised not to panic and not circulate such messages before verifying them ideally with people associated with banks.
Fact check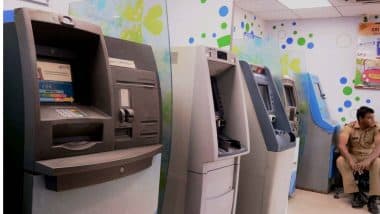 Claim :
Fake Bank Holidays Message Being Spread on WhatsApp Saying ATMs Will Run Dry.
Conclusion :
People are advised not to panic and not circulate such messages as the claim turned out to be fake.
(The above story first appeared on LatestLY on Aug 31, 2018 10:38 AM IST. For more news and updates on politics, world, sports, entertainment and lifestyle, log on to our website latestly.com).