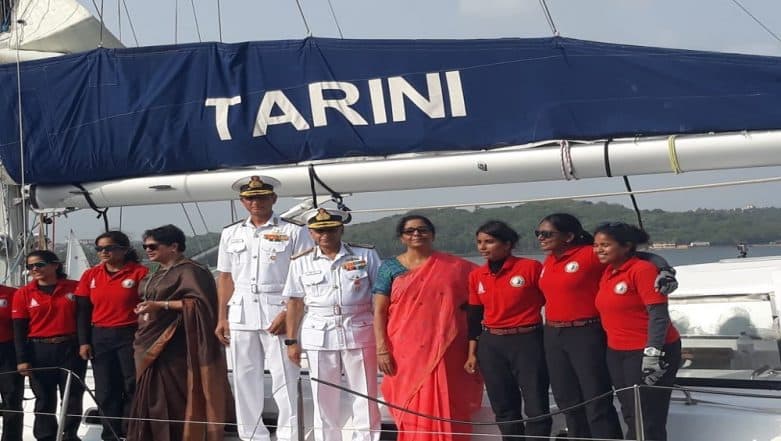 Panaji, May 21: The all-woman crew members of the Indian Naval Sailing Vessel (INSV) Tarini arrived in Panaji on Monday after successfully circumnavigating the globe for eight months. Defence Minister Nirmala Sitharaman and Naval Chief Admiral Sunil Lanba welcomed the six-member team. The Defence Minister speaking at the occasion said, "I feel humbled before them for the achievement they have made. Youngsters from India achieving, it should be motivational for man and women."
The INSV Tarini is the first Indian all-women crew to circumnavigate the globe. Lt. Commander Vartika Joshi led the mission, 'Navika Sagar Parikrama'. The other crew members of INSV Tarini are Lieutenant P Swathi, Lieutenant Pratibha Jamwal (Air Traffic Control specialists), Lieutenant Vijaya Devi, Sub Lieutenant Payal Gupta (both Education officers) and Lieutenant B Aishwarya, a Naval Architect.
#INSVTarini achievement will make us proud for generations. It's not the achievement of these young women, we should take this as an achievement of youngsters. #NavikaSagarParikrama should inspire youngsters to take up challenges: @nsitharaman #AIRPics: Saikat Sarkar pic.twitter.com/IFpRXgNsMq

— All India Radio News (@airnewsalerts) May 21, 2018
#WelcomeHomeTarini #INSVTarini is returning back to Goa, India after her historic circumnavigation of the globe! Smt @nsitharaman and Admiral Sunil Lanba CNS to welcome them on 21st May'18 ⛵ pic.twitter.com/7a7vTjsUO0

— Raksha Mantri (@DefenceMinIndia) May 18, 2018
The expedition was covered in six legs, with stopovers at four ports - Fremantle in Australia, Lyttelton in New Zealand, Port Stanley in Falklands and Cape Town in South Africa.
The crew member spent 199 days in the sea. The journey lasted for 254 days. A navy spokesperson said, "The crew covered 21,600 nautical miles in the Indian-built sailing vessel INSV Tarini that visited five countries and crossed the Equator twice. It sailed across four continents and three oceans, and passed south of the three Great Capes - Leeuwin, Horn and Good Hope."
Sitharaman had flagged-off INSV Tarini with an all-women crew of six officers of Indian Navy from INS Mandovi boat pool, Goa on 10 Sep 2017. It accomplished 'Navika Sagar Parikrama', on 21 May 2018.