Patna, May 12: Ahead of the marriage ceremony, posters depicting groom Tej Pratap Yadav as Lord Shiva and bride Aishwarya Rai as Goddess Parvati is taking the internet by storm. On Saturday, Rashtriya Janata Dal (RJD) Supremo Lalu Prasad Yadav's son Tej Pratap Yadav will tie the knot with Aishwarya Rai, daughter of Chandrika Prasad Rai, a former minister of the state. The marriage ceremony will take place in Patna.
In April, Lalu Prasad's elder son and former Bihar Health Minister Tej Pratap Yadav was engaged to Aishwarya Rai at a posh hotel in Patna. Aishwarya Rai is the granddaughter of former Bihar Chief Minister Daroga Prasad Rai, who briefly served as a Congress CM in 1970, when Lalu Prasad was an emerging student leader. Lalu, who is serving jail terms in connection with fodder scam cases and currently undergoing treatment at AIIMS in New Delhi, could not attend the function.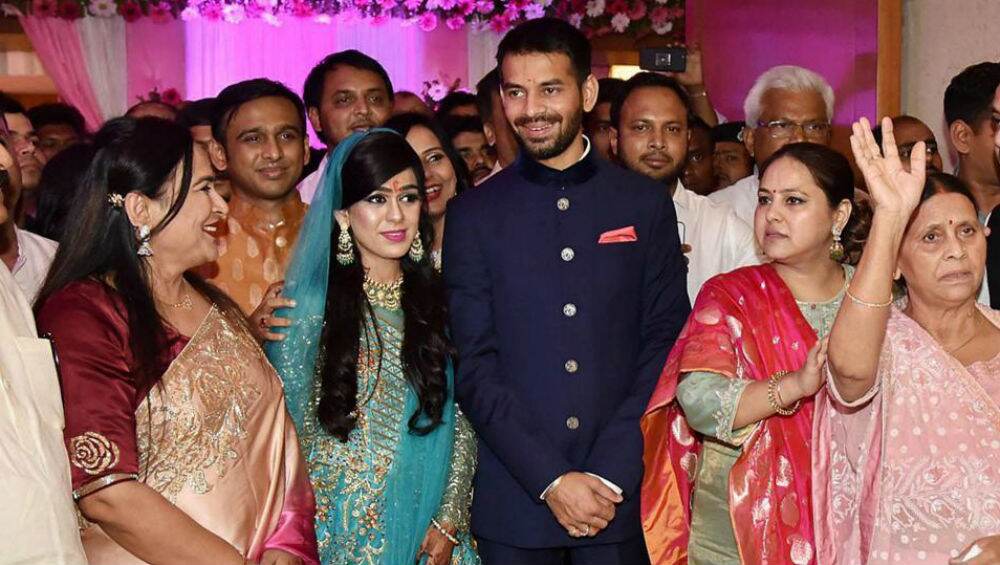 Earlier this week, Lalu Prasad was granted a three- day parole to attend his son's wedding in Patna this Saturday, a senior jail officer said.  Prasad, 69, who has been convicted in three fodder scam cases by a special CBI court in Ranchi since December last year, is currently undergoing treatment at the RIMS hospital in the Jharkhand capital.
According to reports, Congress president Rahul Gandhi and his sister Priyanka Vadra are among the dignitaries likely to attend the wedding ceremony of RJD president Lalu Prasad's elder son Tej Pratap Yadav.