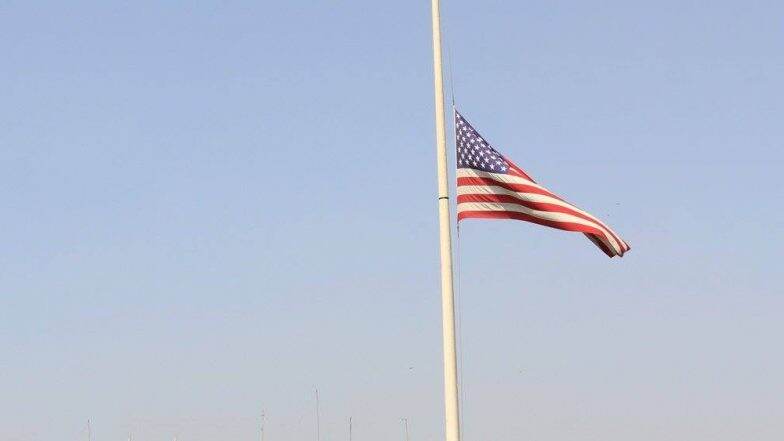 New Delhi, August 11: In honour of the victims and heroes of the horrific 9/11 terrorist attack, the American flag at US Embassy was flying at half-mast on Wednesday.  On this day, in 2011, 19 militants affiliated to the terrorist organisation Al-Qaeda hijacked four aeroplanes and attacked landmarks. The most horrifying of those images remain the two planes crashing into the twin towers of the World Trade Center in New York City. The third plane targetted the Pentagon outside Washington DC. While the fourth plane crashed in a field in Shanksville, Pennsylvania.
More than 3,000 people were killed in the attacks and the terrorist attack came to be known as 9/11. The event not only led to the US declaring its "War on Terror" policy but also became the defining legacy of George W Bush's presidency. 9/11 Attacks 18th Anniversary: From Attack on Twin Towers of World Trade Center to Pentagon, What Happened on September 11, 2001.
Check tweet by US Embassy in New Delhi:
The U.S. Embassy New Delhi flag is flying at half mast today in honor of the victims & heroes of the 9/11 attacks. #NeverForget. pic.twitter.com/7g8efwopCn

— U.S. Embassy India (@USAndIndia) September 11, 2019
The recognition of the shared dangers of terrorism by the administration of President George W. Bush, who had assumed office in January 2001, led to the US designating anti-India terrorist groups like Lashkar-e Taiba as terrorist organisations and cooperating with New Delhi to a greater degree to fight terrorism.