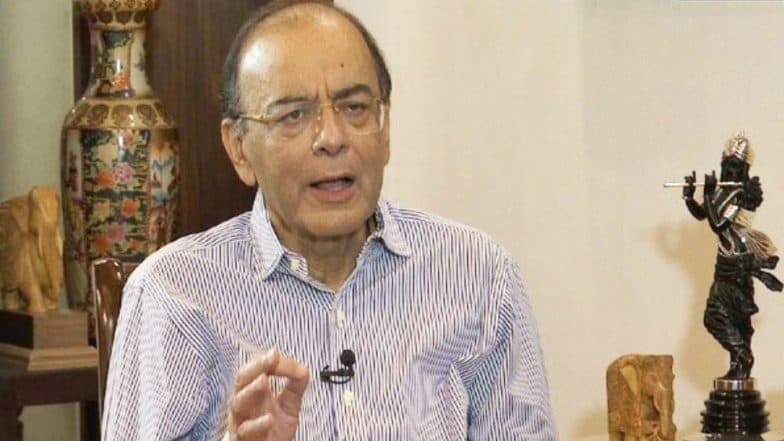 New Delhi, Sept 25: Finance Minister Arun Jaitley sharply responded to former Reserve Bank of India Governor Raghuram Rajan's warning on the next potential banking crisis, which could be caused by the liberal lendings to medium and small scale enterprises.
Jaitley said such analysis is easier for Rajan than taking corrective measures when he was in the Office. "I think for anyone to do postmortem is easier than action when it was required," he said. Raghuram Rajan, Not Demonetisation, Responsible For Slowdown in Economy: Niti Aayog Vice Chairman Rajiv Kumar.
The retort from Jaitley was triggered as Rajan, while submitting a note before a parliamentary committee said the loans granted to MSME can form the next stock of non-performing assets.
Government should focus on sources of the next crisis, not just the last one. In particular, government should refrain from setting ambitious credit targets or waiving loans. Credit targets are sometimes achieved by abandoning appropriate due diligence, creating the environment for future NPAs," Rajan said in the note.
"Both MUDRA loans as well as the Kisan Credit Card, while popular, have to be examined more closely for potential credit risk. The Credit Guarantee Scheme for MSME (CGTMSE) run by SIDBI is a growing contingent liability and needs to be examined with urgency," he added.
Rajan, who was the Governor of RBI till 2016, had recently blamed the unprecedented amount of lendings between 2009-11 as the prime source of the current non-performing assets.
In his note submitted to the committee headed by Murli Manohar Joshi, Rajan said under his tenure a list was sent to the Prime Minister's Office, seeking action against the top NPA account holders.