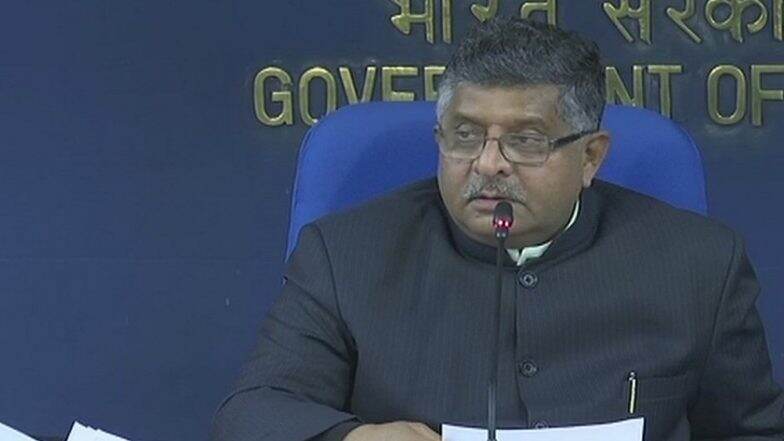 New Delhi, February 6: Union Cabinet meeting chaired by Prime Minister Narendra Modi government on Wednesday approved a proposal to amend the Banning of Unregulated Deposit Schemes Bill, 2018. While addressing the media after the meeting, Law Minister Ravi Shankar Prasad said that the decision would rather strengthen the bill in its objective to effectively tackle the menace of illicit deposit-taking activities, and prevent such schemes from duping the poor. CBI Raids 9 Sites In ATM Group's Chit Fund Case.
The Law Minister also highlighted that the bill provides for severe punishment and heavy pecuniary fines to act as a deterrent. It has adequate provisions for disgorgement or repayment of deposits in cases where such schemes nonetheless manage to raise deposits illegally, Prasad added. Narendra Modi Government Approves 10% Reservation For Upper Castes Ahead of Lok Sabha Elections 2019.
Union Minister Ravi Shankar Prasad: Today the cabinet has approved the proposal for Official Amendments to Banning of Unregulated Deposit Schemes Bill, 2018. pic.twitter.com/E4upVr7Lu7

— ANI (@ANI) February 6, 2019
While speaking on the chit fund scams, Prasad said that the Central Bureau of Investigation (CBI) had lodged about 166 cases in the last three years till November 30, 2018, in chit funds and multi-crore scams, with the maximum in West Bengal and Odisha. Today, the union cabinet also approved the proposal for higher allocation of power to Telangana and Jharkhand from Under Construction Projects of NTPC. Aadhaar-Driving Licence Linking Soon? Ravi Shankar Prasad at ISC 2019 Says Linking With UIDAI Number Will Curb Duplicate Licences.
The Union Cabinet approved the proposal of Ministry of Information and Broadcasting for introducing the Cinematograph Amendment Bill, 2019 to amend to the Cinematograph Act, 1952. The Bill aims to tackle Films piracy by including the penal provisions for unauthorised camcording and duplication of films. Under the amended act, unauthorised cam-cording and duplication of films to digital means will lead to three years jail term or Rs 10 Lakh fine.