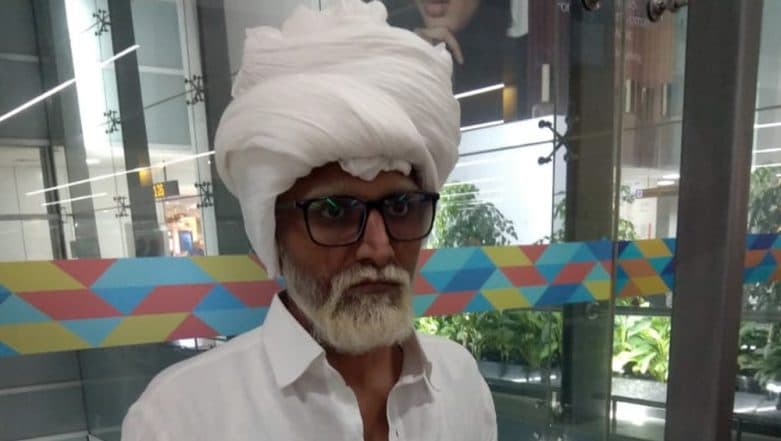 New Delhi, September 10: In what seems to be straight out of a Bollywood movie, a 32-year-old man impersonated an old man to catch a flight for New York from Delhi's Indira Gandhi International (IGI) airport. However, his attire, dyed white beard and fake passport failed to dupe CISF personnel at the Delhi airport. The incident took place on September 8. The accused has been identified as Jayesh Patel, a resident of Ahmedabad. Five Foreigners Trying to Smuggle out Nearly Half-Million USD Held at Delhi Airport.
In a bid to fool security officials, Jayesh Patel coloured his hair and beard white, wore a turban and arrived in a wheelchair to board a flight to New York. He allegedly had a fake passport with the name of Amrik Singh, aged 81 years. According to reports, CISF officials on frisking duty got suspicious as Patel refused to stand up from the wheelchair and was evading eye contact with them. In his passport, Patel's date of birth was mentioned as 01.02.1938. Bihar Man Held for Making Hoax Call at Delhi Airport.
CISF Tweets Pictures of Two Passengers Who Tried to Fool Security Officials:
In two separate incidents, #CISF nabbed two passengers, one each for impersonation and carrying dual passports at IGI Airport, New Delhi. Passengers handed over to Delhi Police officials. pic.twitter.com/Mo7Gazeeox

— CISF (@CISFHQrs) September 9, 2019
"The appearance and skin texture of the passenger seemed to be much younger than mentioned in the passport," a CISF official told news agency PTI. "On close observation, we noticed that his that his hair and beard had been coloured and he was also wearing zero power glasses to conceal his age," the official added. Patel was then put through detailed checks after which his real identity was revealed.
CISF personnel then handed over Patel to immigration officials on charges of impersonation. An investigation was underway to know Patel's intention. In a similar incident on the same day, a man from Afghanistan, who is suspected to have frequently visited Pakistan, was apprehended by the CISF at the Delhi airport for allegedly possessing a "fake" Canadian passport.