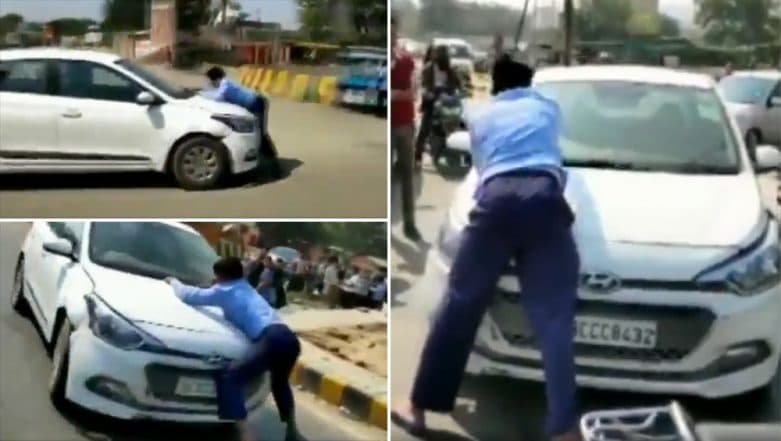 Ghaziabad, March 7: In a horrific incident witnessed in Uttar Pradesh's Ghaziabad, a man was allegedly driven on the car's bonnet for around two kilometres. The life-threatening incident happened with a cab driver, identified as Verrbhan Singh, a resident of Gautam Budh Nagar, on Wednesday allegedly due to road rage when Singh tried to stop the accused car after it hit his car. The accused has been identified as Rohan Mittal, a Delhi resident. Haryana: Delhi Man Arrested for Dragging Traffic Cop for More Than 100 Meters on Bonnet in Gurugram; Watch Video.
In the video shared by ANI, the victim can be seen trying to stop the car. However, the driver did not pay heeds and continues to drive. The driver pulled him for a quite long way before finally giving in. Using Mobile While Driving or Jumping Traffic Signals on Mumbai Roads? Your Licence Will be Suspended For Three Months.
Watch Video:
#WATCH In a shocking case of road rage seen in Ghaziabad, driver of a car drove for almost 2 kilometers with a man clinging on to the car bonnet. The driver was later arrested by Police (6.3.19) (Note:Strong language) pic.twitter.com/hocrDi7qgg

— ANI UP (@ANINewsUP) March 7, 2019
According to the report, the incident occurred yesterday when the victim was going towards Noida 62, when a Hyundai i20 hit his vehicle from behind. When the victim told Mittal to stop and discuss the matter, the accused, however, coming out of the car tried to escape. So to stop him, the victim came in front and fell on the car's bonnet. Later, traffic officials reached the spot and arrested Mittal under the relevant section of the Indian Penal Code (IPC).
Earlier in a similar incident from Haryana, a man from Delhi was arrested for traffic violations and endangering the life of traffic personnel. In the incident which took place on December 20, 2018, the drunk driver was arrested for dragging traffic police for more than 200 metres after the latter tried to stop him for driving on the wrong side in Gurugram.