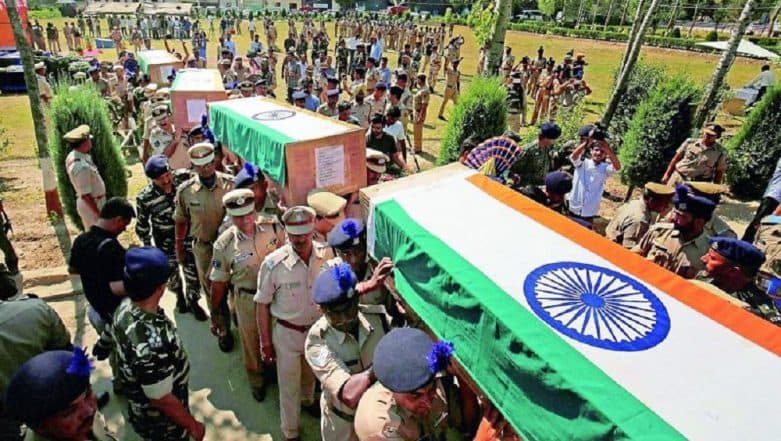 Mumbai, February 23: The country is standing tall with the Pulwama martyrs and helping them with financial aid, but the kin of Shaurya Chakra recipient CRPF Deputy Commandant Hira Kumar Jha - martyred in 2014 Naxal encounter in Bihar-Jharkhand border - is still waiting for the death insurance amount by the private company. Adding on, even the promised government job has not been given to his wife - either by the Jharkhand or the Bihar government.
According to the case, CRPF Deputy Commandant Hira Kumar Jha, along with his troops, entered in Jamui district of Bihar on July 4, 2014. During the encounter, he neutralised several Naxals and seized many ammunition. However, he was martyred in the encounter. Yogi Adityanath in Tears After Student Asks Question on Pulwama Terror Attack, Watch Video. 
President Pranab Mukherjee awarded Jha with Shaurya Chakra posthumously in 2016, received by his wife Binu Jha. She was promised a government job by the state government. But, till now, neither Binu - a BSc graduate and BEd pass educated woman - has either got a job or the insurance by the private firm after four years of the death of her husband.
Asked the reason for the delay, the insurance company stated, as reported by News 18, that Jha was killed in Jamui which does not come under the preview list of company's Naxal-infested area. Secondly, Jha belongs to Jharkhand, while he was killed in Jamui in Bihar.
Since then, Binu had been writing letters to the CRPF offices regarding the issue, with no definite answers in reply. She even met ministers and senior officials, and her apathy has increased with time.
When contacted in the head office of the insurance firm - based in Mumbai, the officials stated that they have asked their regional office bearers in Bihar to look into the matter and asked for the file. The matter will be solved soon, they assured. Post-UNSC Statement on Kashmir, US President Donald Trump Calls Situation 'Very Very Bad And Dangerous' Between India and Pakistan. 
After being informed about the same to Minister of State for Home Affairs, Hansraj Gangaram Ahir, he said, "I don't have the knowledge of the matter as of yet. I will take the full information from the insurance company. If the family wants, they are welcome to meet me anytime."
On the other side, CRPG DIG Dinakaran stated that they are coordinating with the insurance firm. As soon as there is an update on it, they will inform Jha's kin.