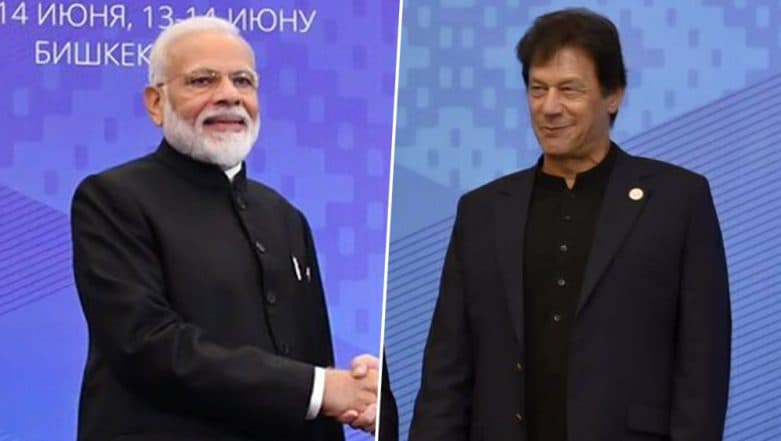 Bishkek, June 14: Indian Prime Minister Narendra Modi exchanged pleasantries with his Pakistani counterpart Imran Khan at the Shanghai Cooperation Organisation (SCO) summit, in Kyrgyz Republic capital Bishkek. The warm exchange between the two heads of states comes a day after reports said the two leaders have snubbed each other. Modi Meets China's Xi Jinping on SCO Summit Sidelines, Targets Pakistan Over Cross-Border Terrorism.
According to reports, the two leaders also briefly interacted while greeting each other. However, the claim is yet to be verified from official sources.
The development assumes significance as analysts in Islamabad were hopeful that the multilateral summit in Bishkek would serve as an ice-breaker in India-Pakistan ties, which went cold following the cross-border terror attack in Pulwama in February this year.
Update by ANI:
Sources: Prime Minister Narendra Modi exchanged usual pleasantries with the Prime Minister of Pakistan Imran Khan in the Leaders' Lounge at the SCO Summit in Bishkek #Kyrgyzstan pic.twitter.com/5mzBatH7fr

— ANI (@ANI) June 14, 2019
The exchange of pleasantries should not be construed as a meeting between the two leaders. Ahead of the SCO summit, the Indian Ministry of External Affairs (MEA) had reiterated that Modi would not be meeting the Pakistani PM at the multilateral event.
Modi, while addressing the SCO leaders earlier in the day, sent out a stern message against Pakistan with Khan in attendance. Without naming the neighbouring nation, the Indian PM said the time has come for the world to recognize and isolate nations which are providing safe haven to terrorists.
"Countries supporting, aiding and funding terrorism must be held accountable," Modi said, further adding, "To tackle the danger of terrorism, all humanitarian powers should come forward together."