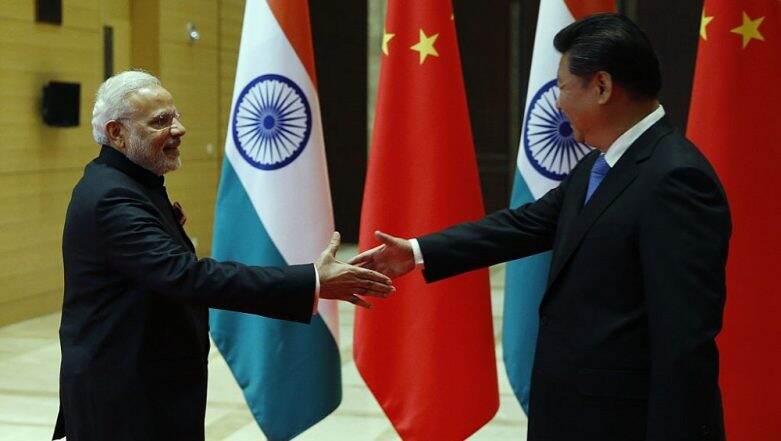 Bishkek, June 13: Prime Minister Narendra Modi held bilateral talks with Chinese President Xi Jinping on sidelines of the Shanghai Cooperation Organisation (SCO) summit in Bishkek, the capital of Kyrgyz Republic. Cross-border terrorism emanating from Pakistan was one of the subjects touched upon by the two leaders during the meet, said Foreign Secretary Vijay Gokhale. PM Modi, Imran Khan Meeting Will Not Take Place During SCO Summit at Bishkek, Confirms MEA
"There was a brief discussion on Pakistan. PM recalled that he has made efforts and these efforts have been derailed, that Pakistan needs to create atmosphere free of terror and at this stage we do not see this happening. We expect it to take concrete action," Gokhale said.
The two sides also raised a range of other issues, including the trade protectionism by the United States which has hit the economies of both the nations.
Update by ANI:
FS Gokhale on PM Modi's meet with China's President: PM noted what had improved between two sides is strategic communication& in that context,we have been able to resolve long pending issues like opening of Bank of China branch in India&issue related to listing of Masood Azhar. pic.twitter.com/Kg9SeFCxpr

— ANI (@ANI) June 13, 2019
Modi also invited President Jinping for an informal summit in India later this year. The latter has accepted the invite and expressed his readiness to come to India in the near future.
"Had an extremely fruitful meeting with President Xi Jinping. Our talks included the full spectrum of India-China relations. We shall continue working together to improve economic and cultural ties between our nations," Modi tweeted after the meeting.
Visuals of PM Modi and Xi Jinping Embracing Each Other:
#WATCH Prime Minister Narendra Modi meets President of China Xi Jinping on the sidelines of the SCO Summit. #Kyrgyzstan pic.twitter.com/Bw1AqQeAk1

— ANI (@ANI) June 13, 2019
The Sino-Indian ties had faced a setback a couple of years ago due to the military standoff in Doklam, triggered by Chinese troops attempts to build a road close to Indian border in an area also claimed by Bhutan.
Sourness of the Doklam standoff was neutralised last year, after Jinping invited Modi for an "informal" summit in Wuhan on April 27-28, 2018.
After the Wuhan summit, both the countries stepped up efforts to improve relations on different spheres including the military-to-military ties. In December last year, Prime Minister Modi met President Xi on the sidelines of the G-20 summit in Argentina and discussed joint efforts to further enhance mutual trust and friendship between the two giant neighbours.
Details of PM Modi's Schedule of Bishkek Visit
Last month, Xi extended his "heartfelt congratulations" to Prime Minister Modi for winning the general elections, in a rare gesture of greeting a foreign leader well before the official announcement of the results. After the SCO summit, President Xi will travel to Tajikistan. From June 14 to 16, the president will attend the fifth summit of the Conference on Interaction and Confidence Building Measures in Asia (CICA) in Dushanbe, the capital city of Tajikistan, Lu added.