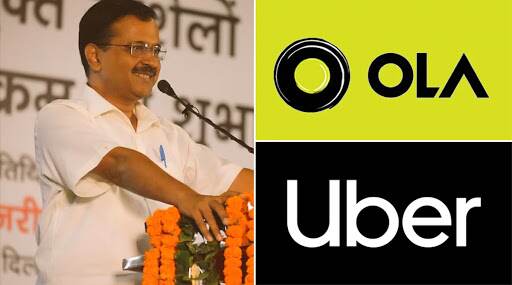 New Delhi, November 1: Arvind Kejriwal-led Delhi government on Friday issued a notification barring the cab operators -- including Ola and Uber cabs -- from surge pricing during the Odd-Even scheme to be implemented in Delhi from November 4 to 15. Apart from this, the Chief Minister has asked the auto-rickshaw drivers to go by the meter prices.
Addressing a press conference in teh national capital, the Delhi Chief Minister said, "Delhi is doing everything from distributing two masks each to every household to implementing the Odd-Even scheme in the national capital." Kejriwal hoped that this would reduce pollution, which is very severe right now in the national capital. Delhi Air Pollution: Arvind Kejriwal Govt Declares Holidays in Schools Till November 5.
Here's a tweet by AAP:
"सभी cab operators को निर्देश दे दिए गए हैं, Odd-Even के दौरान कोई भी कंपनी surge pricing नहीं करेगी"- @ArvindKejriwal pic.twitter.com/vDKBPW49hZ

— AAP (@AamAadmiParty) November 1, 2019
Adding more, Kejriwal stated that he held a review meeting on Odd-Even scheme with all the agencies and the cab companies had promised cooperation in this regard. He said, "I took a review meeting on Odd-Even with all the agencies present in the meeting. The cab companies have been directed to not surge pricing during the drive. I also want to appeal to all the auto-rickshaw drivers to strictly run on a meter."
Among the measures to be taken by the Delhi government to help Delhiites, as Kejriwal said, include distribution of 50 lakh masks. He said, "We are now distributing 50 lakh masks to the people of Delhi. We will procure more number of masks next time." Claiming his government's pet scheme -- odd-even -- a grand success, Kejriwal mentioned about University of Chicago report which has revealed that the previous edition of Odd-Even had lowered pollution by 15 percent.