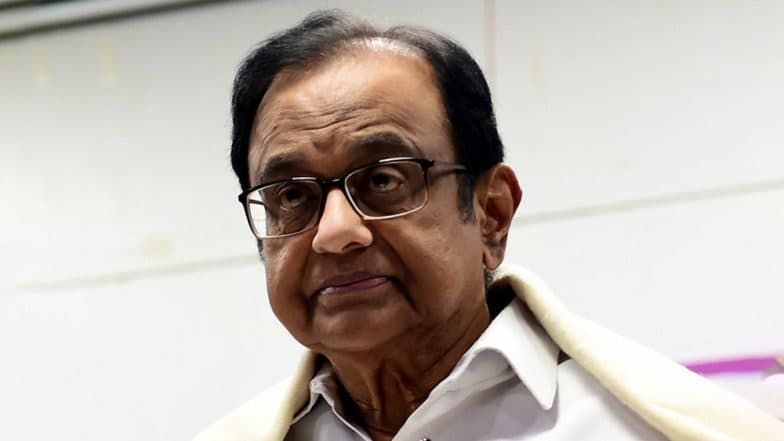 New Delhi, August 22: Former union minister P Chidambaram, who was arrested by the Central Bureau of Investigation in a dramatic manner last night, has been sent to a 5-day custody by the CBI court. The bench headed by Justice Ajay Kumar Kuhar agreed to the prosecution's plea despite the defence counsel arguing that Chidambaram has "completely cooperated" in the probe so far.
The prosecution, being represented by Solicitor General Tushar Mehta, had sought Chidambaram's custody for 5-12 days, claiming that prima facie evidence has pointed towards the Congress veteran's "key role" in the alleged scam involving INX Media. INX Media Case: ED Investigating Officer Rakesh Ahuja Transferred
Senior advocate and Congress leader Kapil Sibal, who was representing Chidambaram in the courtroom, said his client was not even listed as an accused in the case. "Karti Chidambaram, his son, is the accused and has been released on regular bail," he pointed out.
Update by ANI:
Kapil Sibal in Court: Investigation complete as draft chargesheet is ready. Sanction was sought.

Foreign Investment Promotion Board approval is given by 6 Govt Secys,none have been arrested. This is a case of documentary evidence. He(Chidambaram) has never skipped interrogation https://t.co/8o0XJPRHdV

— ANI (@ANI) August 22, 2019
The CBI's counsel intervened and told the bench that Chidambaram, who was the Finance Minister in 2007, tweaked the rules to allow foreign investment beyond the permissible limits in INX Media.
Sibal refuted the charge, claiming that the decision was collectively taken by six government secretaries, and not Chidambaram alone. "Foreign Investment Promotion Board approval is given by six government secretaries, none have been arrested," he said.
Sibal further added that the entire case against Chidambaram is based upon the statement extracted from Indrani Mukerjea, a murder-accused. "CBI's entire case is based on Indrani Mukerjea's evidence and a case diary," he said.
Notably, the case dates back to 2007 when INX Media was allowed to receive an offshore investment of Rs 305 crores. The CBI has alleged that Karti Chidambaram, the son of P Chidambaram, received kickbacks from the media company in lieu of convincing his father to tweak the investment norms.
Karti, earlier today, lashed out at the Centre claiming that the entire case is "fabricated" and his father has only been targeted since he is the "loudest critic" of the Narendra Modi government.