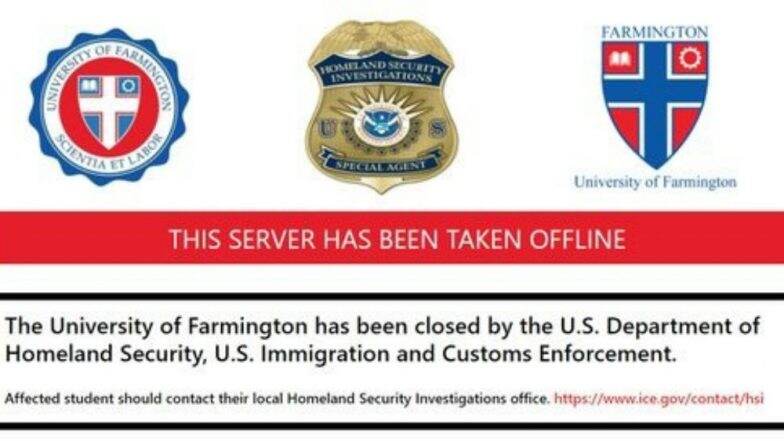 New Delhi, February 5: 117 of 129 Indian students, who were detained for staying illegally in the United States by enrolling in a fake university as part of 'Pay-and-Stay' racket, have been given consular access, India's Ministry of External Affairs (MEA) said on Tuesday. Meanwhile, the US State Department said all 130 foreign students, including 129 Indians, were aware that they were committing a crime to fraudulently remain in the country.
"According to US Government statistics, 129 Indian nationals had been administratively arrested as on 31 January in connection with their enrollment at the 'university'. As on date, our Embassy and Consulates have obtained consular access to the 117 of them," the MEA said in a statement. "Consular access to the remaining students, estimated at about a dozen, are continuing, including through the 24/7 helpline set up by the Embassy and outreach to the community," the ministry added. Indian-American CEO Arrested in Silicon Valley Over H1B Visa Fraud.
The MEA said the Indian government has continued to closely monitor and take proactive measures to deal with the detention of Indian students. Meanwhile, responding after India issued a demarche to the American Embassy in New Delhi on Saturday, the US State Department denied claims that the students knew nothing about the varsity's illegal operation.
"All participants in this scheme knew that the University of Farmington had no instructors or classes (neither on-line nor in-person) and were aware they were committing a crime in an attempt to fraudulently remain in the United States," a State Department spokesperson said in a statement. Along with students, eight alleged recruiters were also arrested.
The accused pleaded "not guilty" before a federal court in Michigan. One of them Phanideep Karnati, 35, who is on a H-1B visa and lives in Louisville, Kentucky was released on a bond of USD 10,000 on Monday. The seven others – Barath Kakireddy, Suresh Kandala, Prem Rampeesa, Santosh Sama, Avinash Thakkallapally, Aswanth Nune, and Naveen Prathipati – consented to their continued detention before a judge in the Eastern District of Michigan, where they were produced along with Karnati days after their arrest.
In a bid to expose immigration fraud, special agents of the Homeland Security Investigations (HIS) ran an undercover operation by secretly operating a fake university in Farmington Hills in Metro Detroit. According to the indictment, the eight accused conspired with each other to fraudulently facilitate hundreds of foreign nationals in illegally remaining and working in the US by actively recruiting them to enrol into the university.