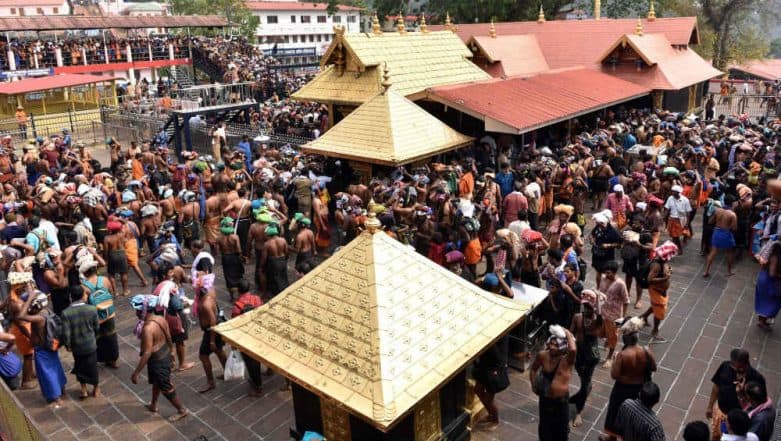 Thiruvananthapuram, January 16: Protests broke out near the Sabarimala Temple today after two women attempted to enter the holy shrine of Lord Ayyappa. Protesters surrounded the women after they crossed the base camp. Immediately after protests erupted, the women were taken to safety by the police in a vehicle. According to reports, these two women are part of a nine-member group who were advancing towards the temple. Sabarimala Temple: Two Women of Menstruating Age Enter Sanctum Sanctorum of Hill Shrine - Watch Video.
However, the group was stopped after they crossed the Pamba base camp. Both the women had earlier refused to return without offering prayers as according to them they followed the 41-day penance. One of the women, however, claimed that she was getting death threats after she began her penance.
Meanwhile, on Monday, Kanakadurga, one of the women who entered the Sabarimala Temple in Kerala earlier this month, allegedly attacked by her mother-in-law as she returned home. Kanakadurga was reportedly hospitalised after being hit on her. As per reports, she is stable now.  Kanakadurga, along with another woman Bindu, had entered the Lord Ayyappa shrine temple on January 2. she had filed a complained at the Perinthalmanna police station against her mother-in-law.
Kerala is witnessing massive protests after the Supreme Court's verdict on September 28 last year which struck down an age-old tradition and allowed women of all age group to visit the sanctum sanctorum of Sabarimala temple. Traditionally, girls and women in menstruating age group of 10-50 years were barred from offering prayers at the temple.