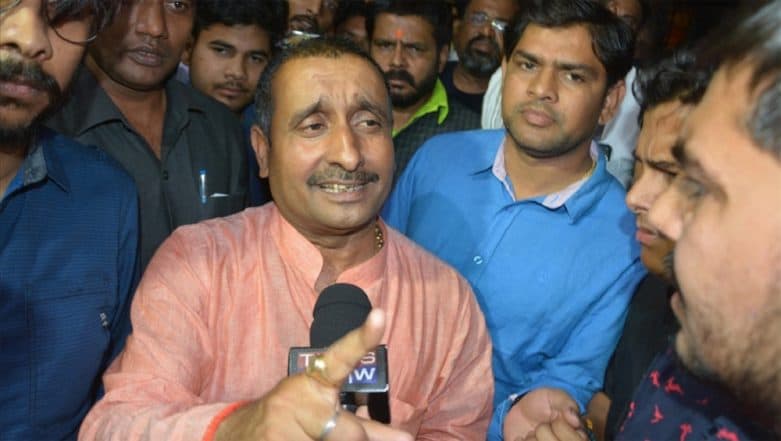 New Delhi, August 9: Delhi's Tis Hazari Court on Friday passed an order on charges under relevant sections of Protection of Children from Sexual Offences (POCSO) Act in the Unnao rape case. The decision was taken by the court while framing rape and other charges against accused Kuldeep Singh Sengar for allegedly raping a minor.
Earlier on Thursday, Sengar's relative Nipender Singh demanded polygraph and narco-analysis tests of the latter should be conducted to know about the truth. He claimed that the BJP leader had not done anything wrong and is framed by opposition parties. Unnao Rape Case: Relative Seeks Polygraph, Narco Analysis Test for Kuldeep Singh Sengar
Singh claimed, "Kuldeep Singh Sengar is innocent. We have seen his attitude. If he has done something wrong, then scientific evidence should be collected. Polygraph test should be conducted. The victim reported about the incident after five months. So, the DNA test cannot be conducted now. Only the polygraph or narco test can be conducted now. We should come to a judgment after examining the evidence."
Claiming a conspiracy, Singh said, "It is a conspiracy. Nobody tried to understand the background of the area. That area is dominated by Rajputs. Kuldeep is not a casteist. He won several times because the people don't like casteism. This went against the local Rajputs people and they protested against it." Unnao Rape Case Accused Kuldeep Singh Sengar Has More Than 10,000 Visitors at Sitapur Jail.
The Unnao rape case gained momentum after a truck rammed into the vehicle in which the Unnao rape survivor, her counsel and two aunts were travelling to Raebareli on July 28. The victim's kin alleged that Sengar's men had done this, in which her aunts succumbed to their injuries, the victim and her lawyer are battling for life in the hospital. Following this, the Supreme Court ordered the Central Bureau of Investigation to complete the investigation related to the accident within a week and the rape case in 45 days.