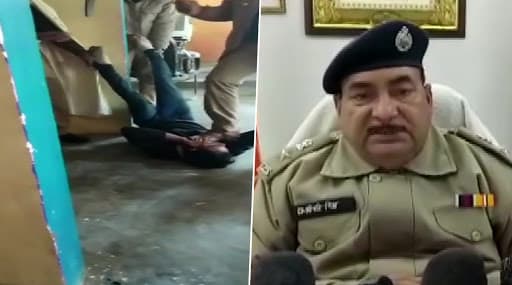 Deoria, January 10: Three policemen have been suspended and a First Information Report (FIR) registered against them after they were seen in a video brutally beating a man allegedly involved in a mobile theft case in Deoria, a senior police official said on Thursday. UP Policemen Thrash Man, Drag Him on Road After Spat Over Traffic Rules Violation, Suspended; Video Goes Viral.
The man, Sumit Goswami, was picked up by police on Wednesday from Mahen village following a complaint that he stole a mobile phone. Three constables took him to a police station and beat him brutally. An unidentified man made a video of the policemen thrashing Mr Goswami. The clip is viral on social media. Uttar Pradesh: 2 Cops Exchange Blows in Kanpur Over 'Front Seat' in UP Police Vehicle, Video Goes Viral
Here is The Video of UP Policemen Beating a Man:                                           (Graphic Content: Viewers Discretion Advised)
Taking note of the video, senior police officer Shripati Mishra ordered a probe into the incident by the circle officer. Based on his report, three constables - Chandramauleshwar Singh, Lal Bihari and Jitendra Yadav - were suspended, the police officer said. "Beating anyone is not acceptable. An FIR is also being registered against the constables," he said.