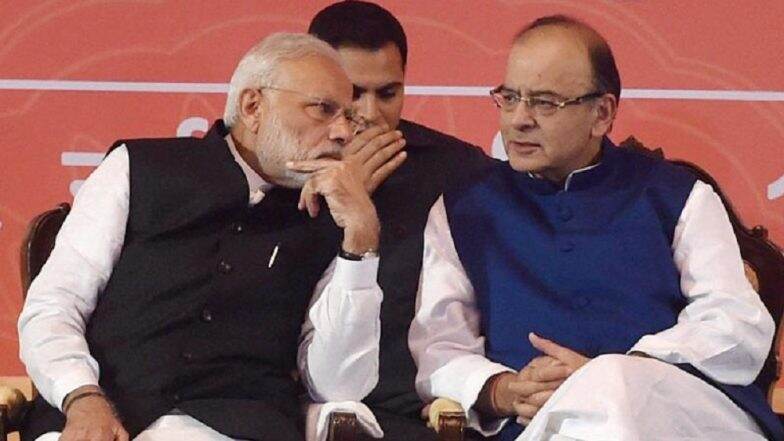 New Delhi, August 24: Former Union Minister Arun Jaitley's untimely demise came as a major setback to most among the political establishment, including Prime Minister Narendra Modi. On a crucial foreign visit, Modi had immediately dialled the bereaved family after learning about Jaitley's demise. The wife and son of the late BJP leader reportedly urged the PM to continue with his scheduled visit in the United Arab Emirates (UAE) and Bahrain in interest of the nation.
Both of them "insisted" that PM Modi should not cut short his visit to attend Jaitley's funeral, news agency ANI reported. The deceased politician will be cremated tomorrow at 2pm at Nigambodh Ghat in Delhi. Thousands are expected to attend the antim yatra, including members of the BJP top brass. Arun Jaitley Dies: Harsh Vardhan Lays Wreath on Mortal Remains on Behalf of PM Narendra Modi
On Modi's behalf, Union Health Minister Dr Harsh Vardhan, laid wreath on the mortal remains of Jaitley. Defence Minister Rajnath Singh also paid tributes to the mortal remains on behalf of the Prime Minister.
Update by ANI:
PM Narendra Modi has spoken to Arun Jaitley's wife and son, and expressed his condolences. Both of them insisted that PM does not cancel his current foreign tour. pic.twitter.com/obQiBh3Cso

— ANI (@ANI) August 24, 2019
Watch: Jaitley No More, Passes Away After Prolonged Illness
Prime Minister Modi took to social media to express sorrow over the demise of Jaitley. In a series of posts on Twitter, he described the former Finance Minister as a person who had deep insight into matters of governance.
"During his long political career, Arun Jaitley Ji held multiple ministerial responsibilities, which enabled him to contribute towards India's economic growth, strengthening our defence capabilities, creating people friendly laws and enhancing trade with other nations," he said. PM Narendra Modi Expresses Condolences, Says He Has Lost a Valued Friend
Read PM Modi's Tweet:
BJP and Arun Jaitley Ji had an unbreakable bond. As a fiery student leader, he was at forefront of protecting our democracy during the Emergency. He became a much liked face of our Party, who could articulate the Party programmes and ideology to a wide spectrum of society.

— Narendra Modi (@narendramodi) August 24, 2019
"With the demise of Arun Jaitley Ji, I have lost a valued friend, whom I have had the honour of knowing for decades. His insight on issues and nuanced understanding of matters had very few parallels. He lived well, leaving us all with innumerable happy memories. We will miss him," Modi further said.