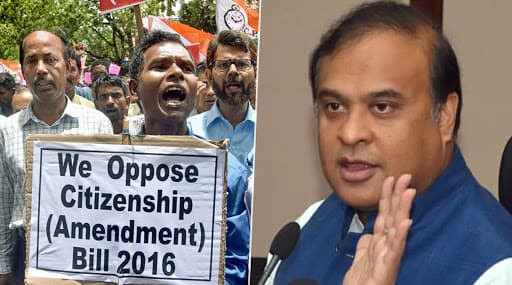 Guwahati, December 5: With the Union Cabinet showing the green light to the controversial Citizenship Amendment Bill on Wednesday, Bharatiya Janata Party leader from Assam -- Himanta Biswa Sarma -- said that the bill to 'religiously persecuted' refugees from Muslim-dominated neighbours could never be secular since there was 'no religious persecution of Muslims in Pakistan, Afghanistan and Bangladesh'. The bill would be tabled in the Parliament on Monday.
Expressing his opinion on the CAB 2019, Sarma said, as NDTV quoted, "This bill will look to protect people who have been religiously persecuted in Pakistan, Afghanistan and Bangladesh... so how can it be secular? Remember, in an Islamic country, how can you convince a court that a person practising Islam has been religiously persecuted?" Citizenship Amendment Bill Gets Green Signal From Cabinet: Here's All You Need to Know About the Contentious CAB.
Adding on, Sarma said, "Someone gives us a formula... how to prove a person has been persecuted in Pakistan for practising Quran... or even in Bangladesh? If someone can prove that he has been religiously persecuted, then this matter can be considered."
Meanwhile, the opposition had been attacking the Union government for trying to implement the CAB 2019. Soon after the Centre paved the way for CAB, former Jammu and Kashmir Chief Minister Mehbooba Mufti's daughter -- Sana Iltija Javed -- slammed the ruling dispensation and tweeted from her mother's Twitter handle -- "India - No country for Muslims". Mehbooba Mufti's Daughter Sana Iltija Javed Slams Centre on Citizenship Amendment Bill, Says 'No Country For Muslims'.
According to the CAB 2019, non-Muslims who fled religious persecution from Bangladesh, Pakistan and Afghanistan and entered India before December 31, 2014, would be granted Indian citizenship. The Bill seeks to amend the Citizenship Act, 1955.
The Bill seeks to make people belonging to six communities, namely Hindu, Sikh, Buddhist, Jain, Parsi, and Christian illegal migrants from Afghanistan, Bangladesh, and Pakistan, eligible for citizenship of India. So, the Bill aims to make it easier for non-Muslim immigrants from India's three Muslim-majority neighbours to become citizens of India.