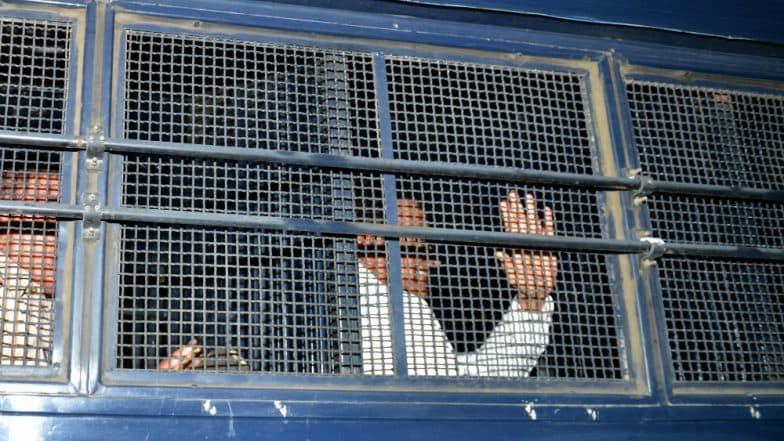 New Delhi, September 6: A Congress delegation, which arrived to meet former Finance Minister P Chidambaram at Delhi's Tihar Jail, was sent back by the prison administration on Friday. Chidambaram was brought to Tihar Jail late on Thursday after a court sent him in judicial custody in the INX Media case. Chidambaram will be in Tihar Jail till September 19. Interestingly, his son Karti Chidambaram was lodged in the same jail. Aircel Maxis Case: P Chidambaram, Son Karti Get Anticipatory Bail by Special CBI Court.
A group of Congress leaders including Mukul Wasnik, PC Chacko, Manikkam Tagore and Avinash Pandey went to Tihar Jail to meet Chidambaram on Friday. They were told that the allotted time to meet Chidambaram was over. They also spoke to the Jail Superintendent, but were not allowed to meet the Congress leader. Chidambaram is lodged in Jail number seven, meant for economic offenders in Ward nine of Tihar Jail. P Chidambaram in Tihar Jail: Congress Veteran to Eat 'Dal-Roti' in Plastic Utensils, Spend Birthday Locked Up.
Since Chidamabarm has Z-level security, the court has allowed special facilities for him. He is lodged in a separate cell which has a cot (prisoners usually sleep on the floor), a bathroom with western-style facilities. The court also permitted Chidambaram to carry his medicines. Chidambaram will also have access to the prison's library and can watch television for a specified period of time.
The senior Congress leader is accused of misusing his position as Union Finance Minister in 2007 while facilitating a huge infusion of foreign funds in INX Media at the instance of his son Karti. On Thursday, a Delhi court also granted anticipatory bail to Chidambaram and his son Karti in both the ED and the CBI matters relating to the Aircel Maxis case.