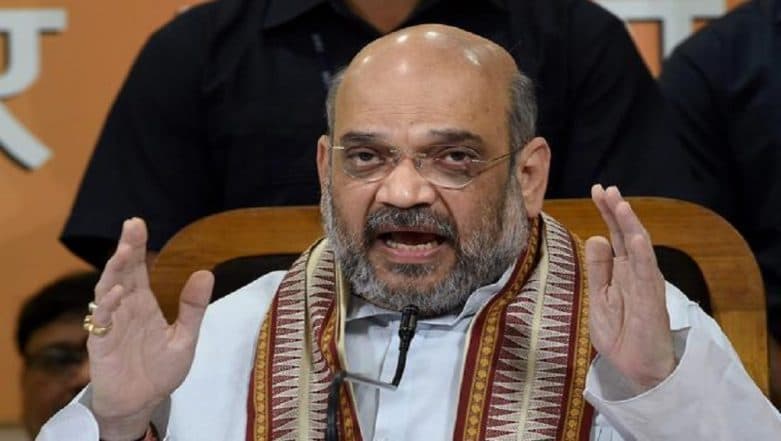 New Delhi, January 4: Following Defence Minister Nirmala Sitharaman's near two-hour defence in the Lok Sabha on the embattled Rafale fighter jets deal, BJP president Amit Shah said her speech has exposed the propaganda unleashed by the Opposition. Her reply to the Lok Sabha on the string of allegations has ended up demolishing each one of them, the BJP chief added.
The speech of Sitharaman was loaded with facts, unlike the Congress which has resorted to "lies" to defame the Narendra Modi government, Shah said. The fake and fabricated charges of the Opposition now cease to exist, he further quipped. Amit Shah Meets Maharashtra BJP MPs, Hints At No Pre-Poll Alliance With Shiv Sena.
Here's what Shah tweeted after the heated debate on Rafale:
A LIE goes only so far and no further.

Defence Minister Smt @nsitharaman ji has completely demolished Congress party's lies and misinformation campaign on Rafale with her excellent speech loaded with facts.

I congratulate her for bringing the truth to the nation.

— Amit Shah (@AmitShah) January 4, 2019
Sitharaman's response in Lok Sabha came a day after her senior Cabinet colleague Arun Jaitley represented the government to counter the spree of allegations levelled by the Opposition.
Continuing from where Jaitley left off, Sitharaman said the Congress wants the Rafale deal abrogated as the party wants to trivialise and politicise national security.
The Defence Minister also reminded the Opposition that while India added no fighter aircraft, its hostile neighbours kept strengthening and enhancing their air power.
"China added 400 aircrafts between 2004-14 including Fifth Generation Fighter Aircraft while Pakistan increased aircraft by doubling its F16", Sitharaman told the House.
The Rafale jet deal controversy has been on the boil over the last few months. The Congress and other Opposition parties have been alleging irregularities in the high-profile deal for purchase of 36 fighter jets, which the ruling BJP has outrightly rejected.
Congress president Rahul Gandhi, while exercising his right to intervene in the debate after Sitharaman's reply, said the Defence Minister has failed to explain why industrialist Anil Ambani's newly set-up defence firm was selected as the offset partner, rather than the state-owned Hindustan Aeronautics Limited, which has over 70 years of experience in building combat aircrafts.
(With ANI inputs)