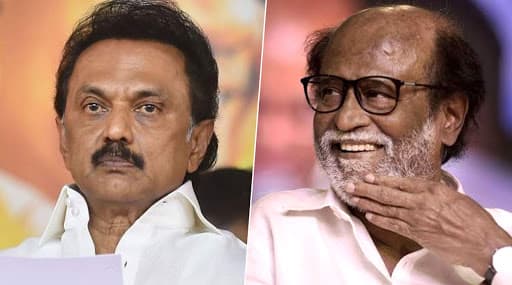 Chennai, January 21: Dravida Munnetra Kazhagam chief MK Stalin on Tuesday advised actor-politician Rajinikanth to rethink his comment on Tamil icon Periyar Ramasamy. Stalin appealed to the Superstar not to make untoward comment against 19th Century social activist, who is considered to be the father of the "Dravidian movement"
Giving an advise to Rajinikanth, Stalin said, as quoted by NDTV, "My friend Rajinikanth is not a politician, he is an actor. Please think and speak about Periyar. I appeal to you. Periyar lived for 95 years, working for the Tamil race." Earlier in the day, Rajinikanth had refrained refused to apologise for his controversial remarks on social reformer E V Ramasamy, popularly known as Periyar. Rajinikanth Refuses to Apologise For 'Nude Images of Lord Ram And Sita Were Displayed in Periyar's Rally' Statement.
Speaking to the media, outside his residence in Chennai, Rajinikanth had said, "There is a debate on an issue I spoke on and which happened in 1971. I didn't make up what I said. People are saying I made it up but I didn't."
It is to be known that on January 14, Rajinikanth had said at the 50th-anniversary function of Tamil magazine 'Thuglak' that naked images of Lord Ramachandramoorthy and Sita were displayed during a rally in 1971 in Salem that was led by Periyar.
He had said, "In 1971, at Salem, Periyar took out a rally in which undressed images of Lord Sri Ramachandramoorthy and Sita -with a garland of sandal-featured and no news outlet published it." This has created a controversy in Tamil Nadu after which Rajinikanth was asked to apologise. Rajinikanth, however, asserted: "Sorry, I won't apologise."