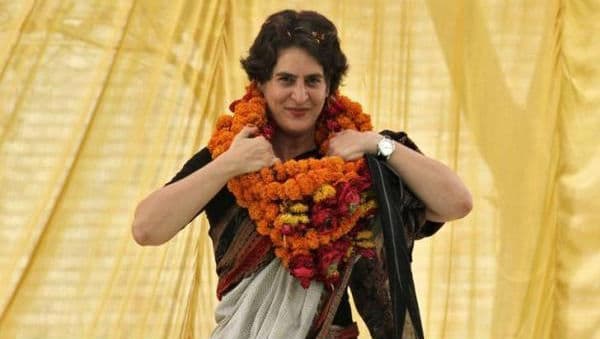 New Delhi, September 13: Congress general secretary Priyanka Gandhi Vadra took a dig at the Narendra Modi government on Friday over the  economic crisis in the country by using cricket analogy. The Congress general secretary asked the government to focus rather than blaming gravity, Ola and Uber for the economic slowdown. Priyanka took to Twitter to share a video clip of a match between Maharashtra and Railways in Syed Mushtaq Ali T20 tournament which took place in March this year. Ruturaj Gaikwad's Stunning Catch Gets World Wide Appreciation; England Football Great Gary Lineker Terms It 'Best Ever' (Watch Video).
Priyanka referring to statements made by union ministers Piyush Goyal and Nirmala Sithatram, tweeted that to take a brilliant catch, it is important to maintain focus on the ball till the end, otherwise, you will put the blame on gravity and hold Ola and Uber responsible. Maharashtra's Ruturaj Gaikwad took a brilliant catch in the clip tweeted by Priyanka. Taking a swipe at the Modi government, the Congress general secretary further added that, her tweet was for the sake of India's economic development. Piyush Goyal Says 'Maths Didn't Help Einstein Discover Gravity, Don't Get Into This GDP Mathematics'; Watch Video.
Priyanka Gandhi Vadra's Tweet:
सही कैच पकड़ने के लिए अंत तक गेंद पर नजर और खेल की सच्ची भावना होनी जरुरी है। वरना आप सारा दोष #gravity, गणित, ओला-उबर और इधर-उधर की बातों पर मढ़ते रहेंगे।

भारतीय अर्थव्यवस्था के लिए जनहित में जारी। pic.twitter.com/3zqBnoIZYp

— Priyanka Gandhi Vadra (@priyankagandhi) September 13, 2019
Earlier this week, Finance Minister Sitharaman blamed the millennials and their mindset for the fall in the auto sector. Sitharaman said that millennials prefer cab aggregrators and ride hailing services like Ola and Uber rather than "committing to buying an automobile." The Finance Minister added that the Automobile industry has been affected by the BS6 norms.
Yesterday, Railways Minister Piyush Goyal made a gaffe as he asked the media to not go into numbers for looking at India's development under the Narendra Modi regime, saying, "Maths never helped Einstein discover gravity." Later he admitted his mistake for wrongly attributing the discovery of gravity to Einstein instead on Newton. However, he slammed media for ignoring the message he wanted to convey and quoting him out of context. Congress also mocked the Railways Minister for his mistake.